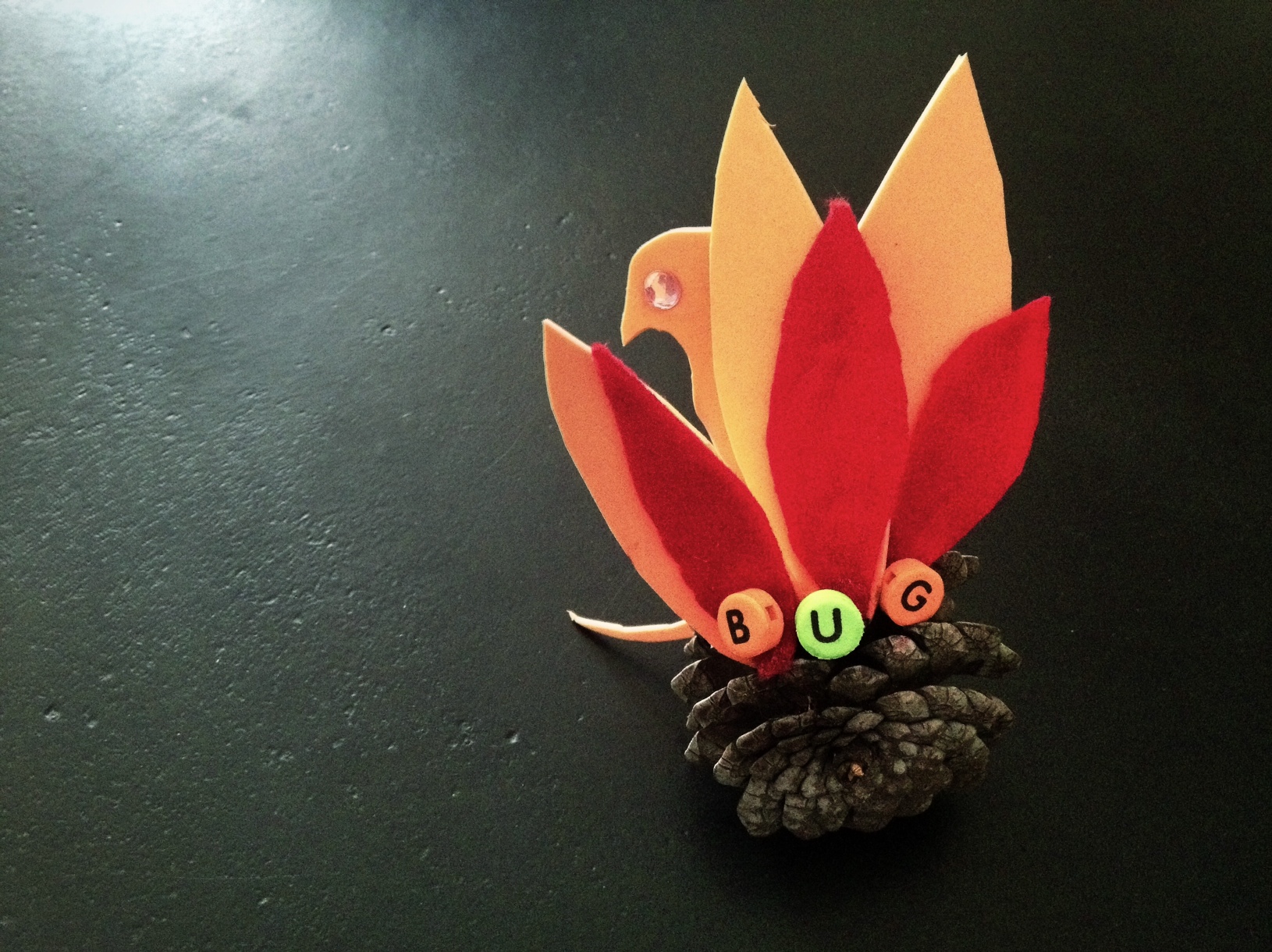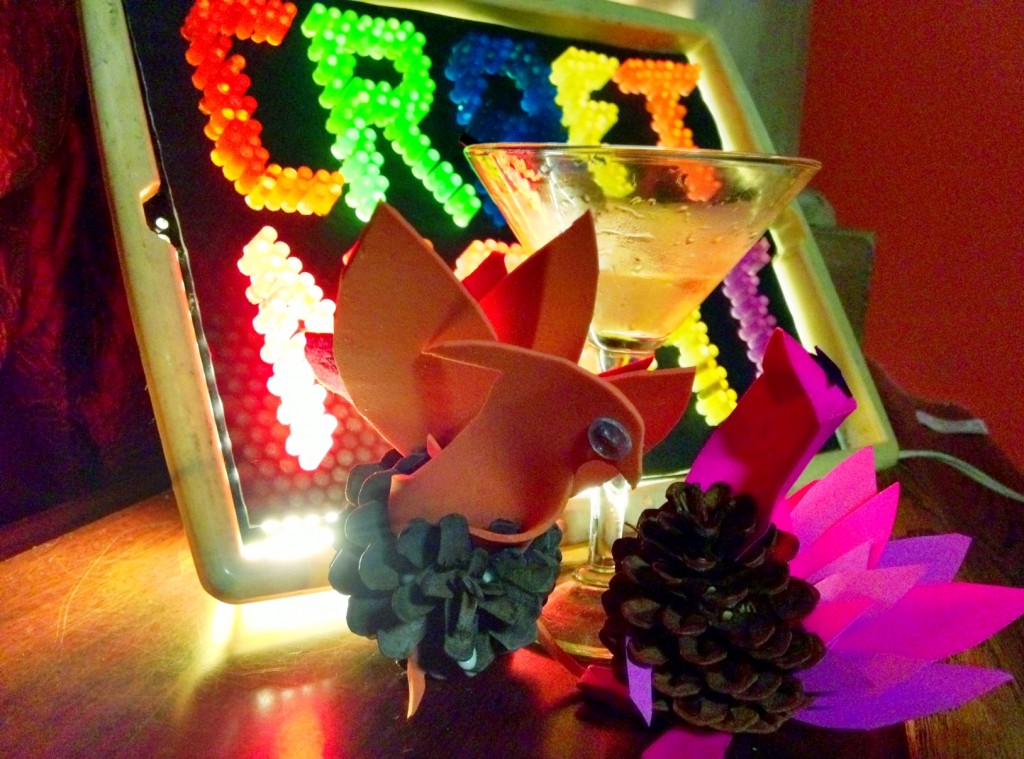 Last Wednesday I kidnapped Chani and made her come with me to Craftnight, since I knew JP was making PINECONE TURKEHS and who doesn't want to take home one of them?!  Chani's was way more elegant than mine, this picture doesn't do it justice, but the stars for eyes and the pink head on hers really were made for greater things.  I was only half a martini in when I selected the makings for my turkey, so I can't blame the booze on the letters I picked to adorn my own wooded fowl, but the letters B, U, and G really jumped out at me.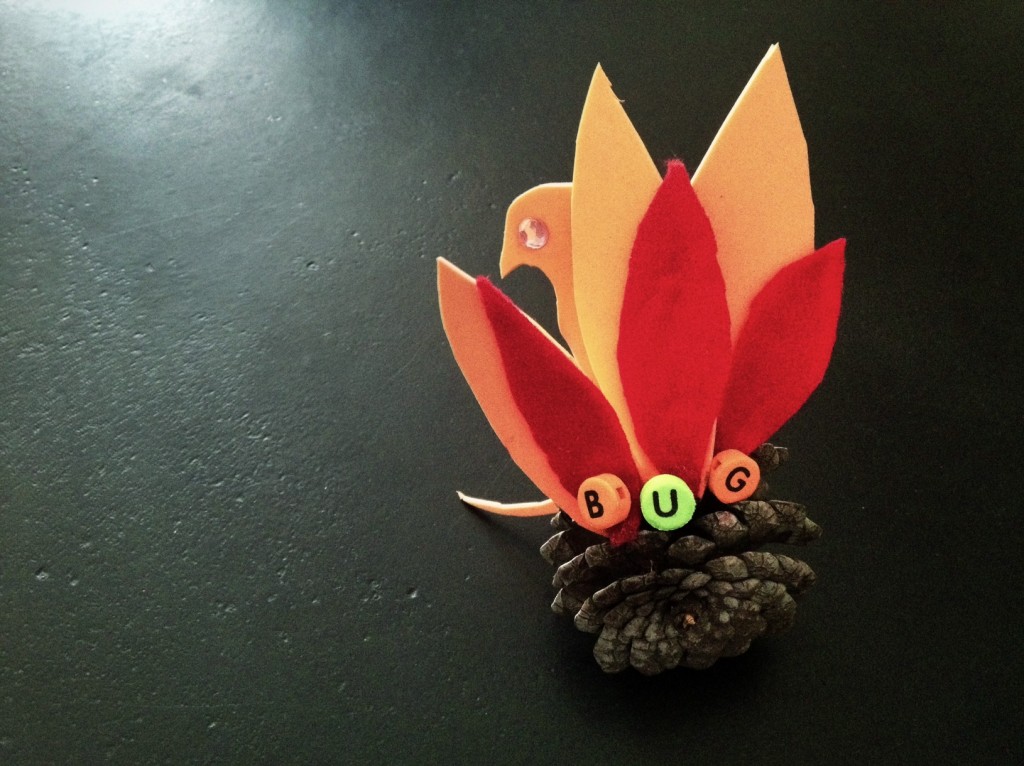 Chani laughed at me when I put it all together saying, "I don't know why I picked those letters."  She pointed out to me that I probably had bugs on the brain.  I still can't believe I didn't know why I'd picked those letters.  It's weird.  But this Turkey is a gift from my subconscious, a reminder that there's something to be grateful for everywhere if you just know how to look.
Today I'm grateful for Thanksgiving starting early, 'cause I'm on my way over to my friend Michael's to help him prep for tomorrow (he's the kind of Thanksgiving nut who starts a week in advance, by noon today he's going to be buried in lists and longing for someone to shake his Capricorn stick at!).  So here we go, my little Thanksgiving Corn Muffins!  Into the holiday breach!
Be safe, be loved, be thankful.
http://starsofwonder.com/wp-content/uploads/2013/11/photo-13.jpg
1220
1630
Wonder Bright
http://starsofwonder.com/wp-content/uploads/2014/09/starsOfWonder-143x32@2x.png
Wonder Bright
2013-11-27 09:42:23
2016-05-15 15:51:38
Bugsgiving