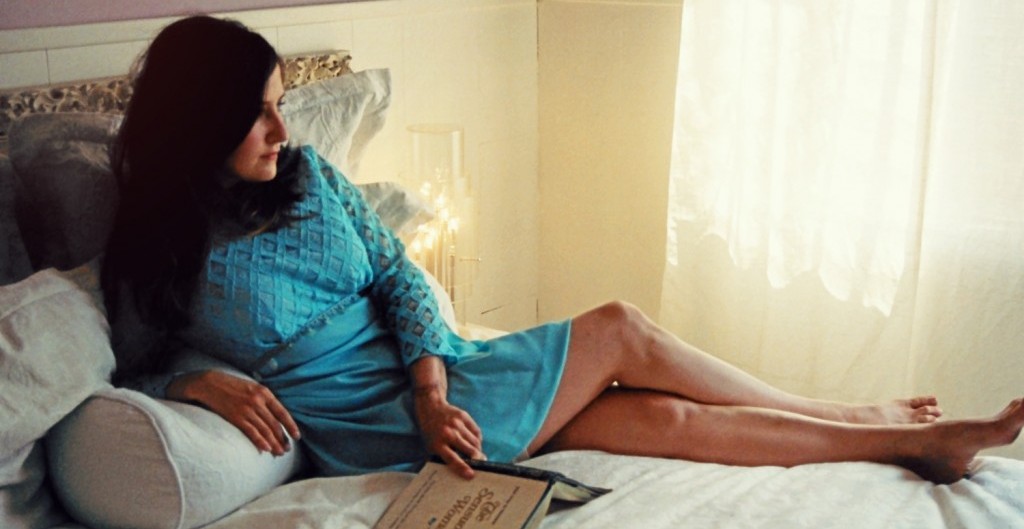 Can you read the title of the book Little Lonely is holding in her hands?  It's called The Sensuous Woman, by "J"  AHAHAHA OMG it's magnificent.  I found it in a second hand shop some years ago and was drawn to it right away on account of the title.  Well, maybe the subtitle: The first HOW TO book for the female who yearns to be ALL woman.  I knew immediately this gem was destined for my shelf.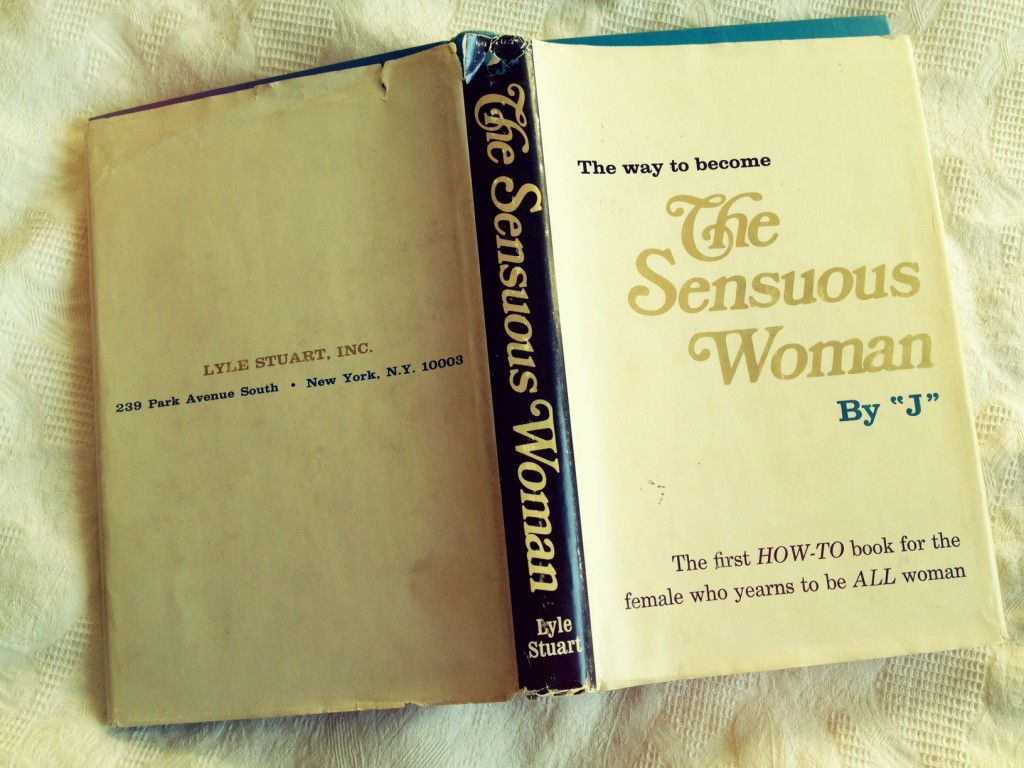 The inside cover did nothing to dissuade me.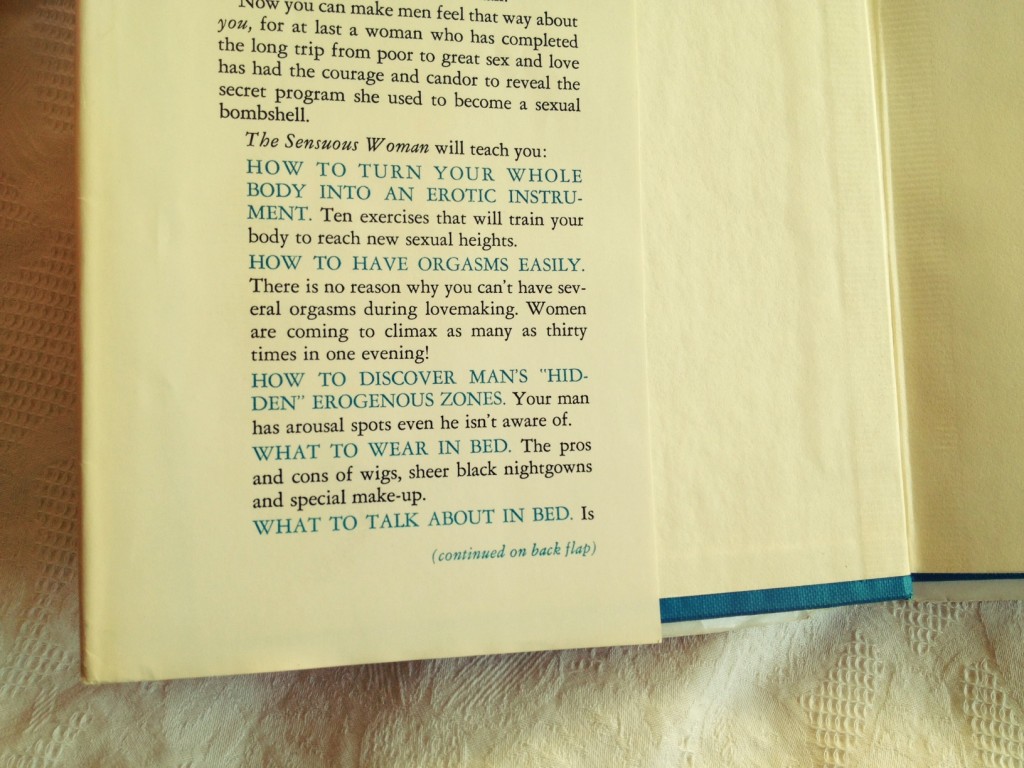 J had me at the pros and cons of wearing a wig in bed.  Though frankly, her advice on that is nowhere near as brilliant as her advice on wearing makeup.  According to J a woman ought always to wear a bit of eyeliner and rouge, as "today there is only one situation a woman is forced to meet sans makeup – an operation – and several hospitals are beginning to relent on their ridiculously rigid surgery rules.  If ever there is a time when a woman needs her spirits lifted, it's when they're about to cut her open."
Werk it, grrl.
And oh my Gods there's so much more.  What about the chapter "Where to Meet Men," in which she advises the married woman looking for a lover to "forget supermarket managers and shoe salesmen.  By the end of the day they hate women."  Solid gold.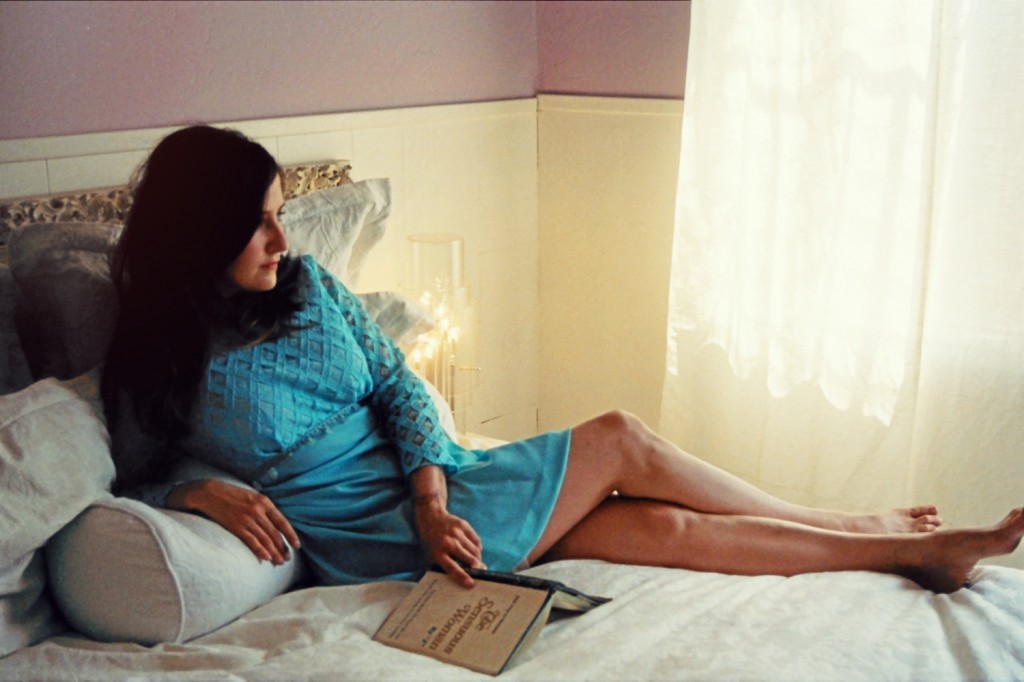 But it's not all dated high hilarity with J.  In fact, she's got some solid advice for the woman looking to connect with her body and her lover.  It's actually for that that I really truly love the book, no joke.
Remember last week when I got my head turned by a boy during the Venus transit to my Sun?  I vowed that day to stop putting my Venus in the corner and to remember to take her out and enjoy her, with or without a lover.  It's altogether too easy when your heart is sore or you've been single for a long time to forget that one of the most magical ways of getting your heart and soul back online is not something that requires another person at all.
In fact, arguably, it all starts and stops with you anyway, so without ever leaving your house you've got more than enough company to accomplish the job.
And no, I'm not talking about touching yourself, although certainly, if you're so moved.  In fact, J devotes the entire third chapter to the importance of masturbation, because, as she says, "you must train like an athlete for the act of love." (her italics, not mine – I love a woman who knows the value of well placed italics!)  But that's just the tip of the iceberg.  Actually I'm talking about something much deeper, more immediate, and infinitely accessible.  Something you can do in public and really pretty much anytime you think of it.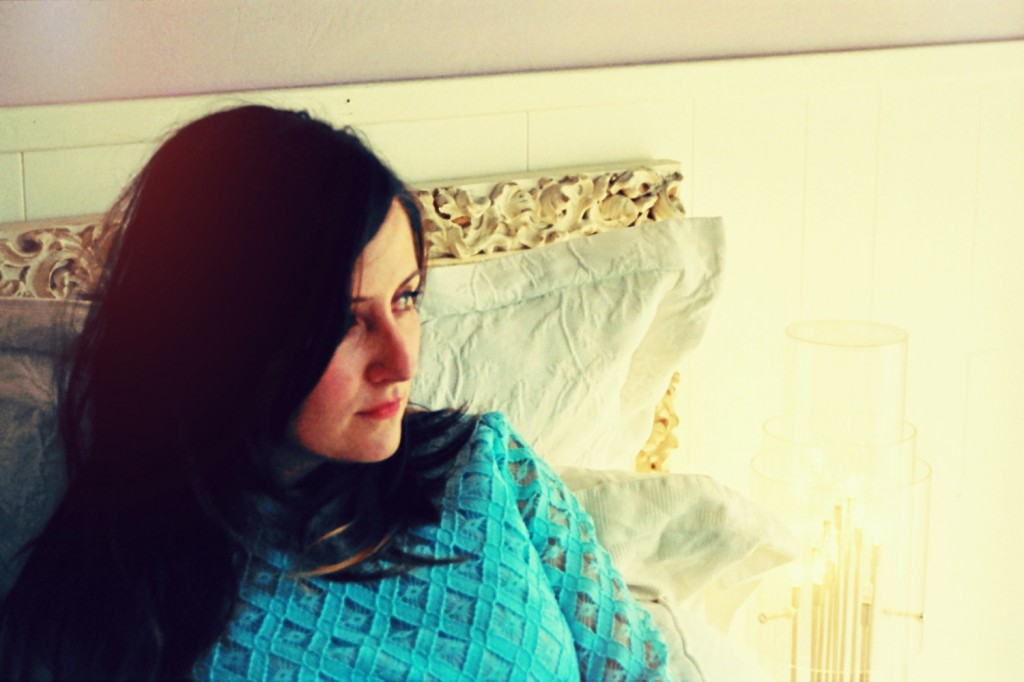 It's very simple, really.  Just the act of indulging in your senses.  Sight, touch, sound, and taste.  J devotes the entire second chapter to nine exercises to get a girl back into her skin and her body.  She's got everything from applying lotion to your naked body before you sleep (on perfumed sheets!) to nice lingerie, but my favorite is the first one.
She asks you to sit at a table with a variety of everyday household objects in front of you.  You know, like a "leather glove, powder puff, cracker, bar of soap, rolling pin, fur hat, dish of tepid water, terry cloth towel, your wig, silk scarf, slice of bread, velveteen pin cushion, piece of lace, feathers, pearl necklace, leaf of a plant and whatever else you fancy…"  (I'm impressed, I'm only missing one of those items!)
The instruction is to dim the lights and, blindfolded, slowly and gently run your hands over the items for approximately ten minutes.  Afterwards, lean back in the chair and re-create the feel of each item in your mind "so that your fingers actually memorize" what they feel like.
I'll confess, I only did this exercise once.  But it reminded me quite quickly how easy it is to tap into the profound delight of being in your body.  Touch is one of the quickest, most direct ways of getting back inside your body and into the present moment that there is.  Meditation is a wonderful thing, and I am all for mental contemplation, but physical contemplation is something that can be had at any moment and it's a terrific work out for your Venus.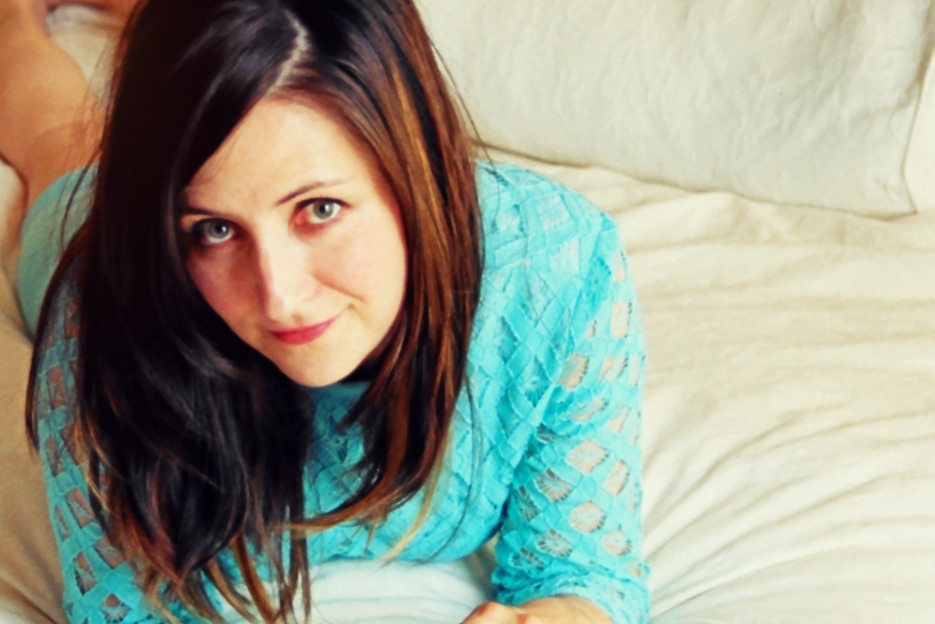 Venus is all about connection, the ability to give and receive love.  And it's also about touch, beauty, and sensual experience.  Just because you're single doesn't mean you can't access her powers.  In fact, it's especially when you're single that creating these experiences might be the most important.
So with Venus going through Capricorn (the earth signs are the poster girls for sensuality!) I'm reminding myself to get connected to the here and now through touch.  The feel of my jeans on my belly, the weight of my wool scarf, the crispness of clean sheets.  Touch is grounding, yet every time I give into it, my heart lifts.
Go on and give it a try, My Little Silken Powder Puffs.  It's OK if you feel a little silly at first, and it's DEFINITELY OK to laugh, because HELLO, but ultimately what have you got to lose?  Nothing you're going to miss, that's what.  Let go of your fears, and your sads and your lonelies and just be here now.
John Mayer has made more than one mess with his words, but he got one thing super right.  Your body IS a Wonderland.
http://starsofwonder.com/wp-content/uploads/2013/11/backlit-70s-e1410462456944.jpg
529
1024
Wonder Bright
http://starsofwonder.com/wp-content/uploads/2014/09/starsOfWonder-143x32@2x.png
Wonder Bright
2013-11-24 14:40:07
2016-05-18 22:25:30
Sex and the Single Girl