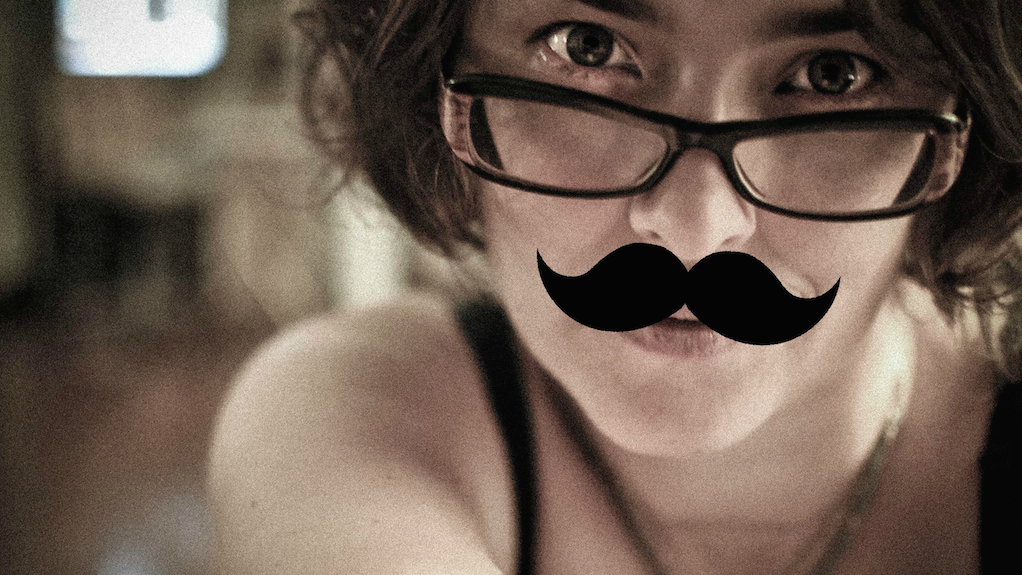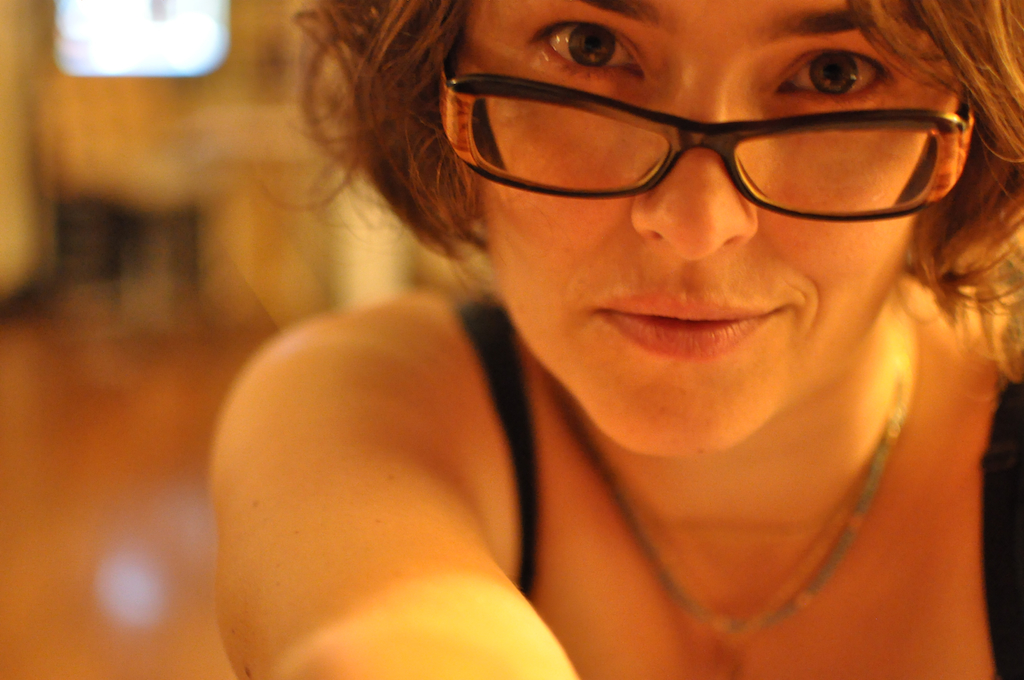 1.  GET REALLY STONED AND START MESSING AROUND WITH YOUR CAMERA.  START WITH SOFT FOCUS DUCKFACE (be sure to include something IRONIC that isn't LITERALLY ironic LIKE GLASSES to indicate that you aren't taking the whole thing too seriously)
I don't usually post selfies.  The whole phenomena makes me a bit queasy, to be honest.  To be even more honest the fact that it makes me queasy gives me a total case of the Eye Roll since it's so obviously hypocritical of me.  I love personal narrative and my favorite artists are always the ones that start there, using themselves to paint the world.  Besides I'm vain, I like looking at myself and that fact hasn't diminished with age, if anything it's grown stronger.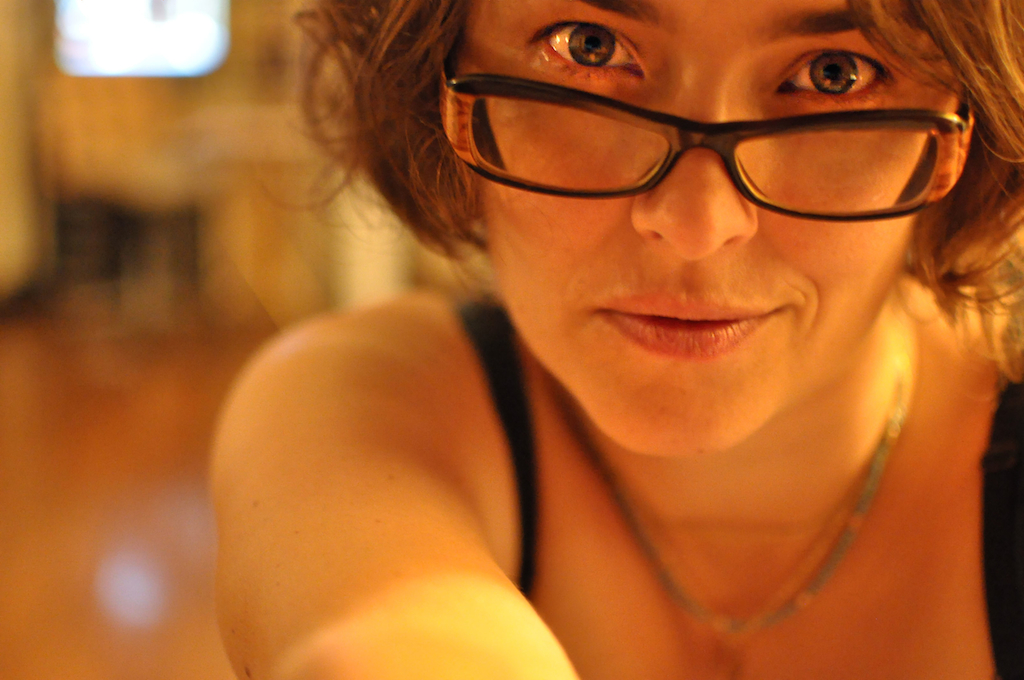 2.  USE A CREEPY PHOTO EDITOR TO ENHANCE YOUR EYES (they're the Window to the Soul, right?)  IMMEDIATELY REGRET WHAT YOU HAVE DONE WHEN YOU SEE HOW GORMLESS IT MAKES YOU LOOK
I find my face more interesting now that it's grown over with fine lines and dark hairs (well maybe not so much the dark hairs, THE FUCK WITH THEM #feministFAIL).  I was close to my grandparents and I'm fascinated by the whole process of aging.  There's something fundamentally reassuring about it to me, about being a part of the whole Cycle of Life thing.  I'm about halfway through it if I'm lucky and my genes hold out like they have for most of the elders in my family.  I've got a long way left to go and I love the vehicle I've got for the journey, it's so familiar to me now, worn in exactly the way I like it and with lots of mileage left in it if I play my cards right.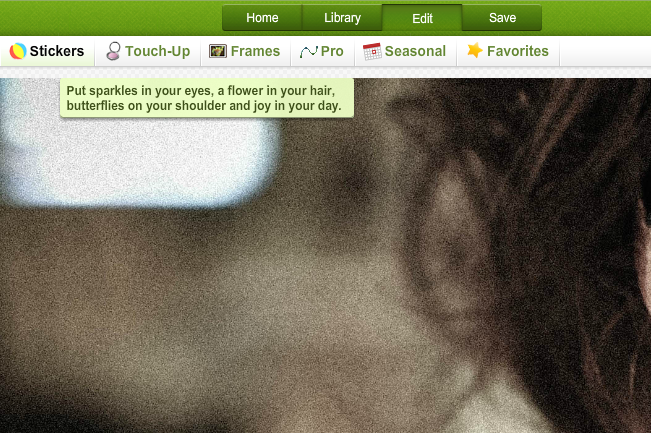 3.  HAVE FUN WITH IT  (You don't want people to think you HATE yourself, do you??!)
Besides, the truth is that behind every selfie is someone just trying to figure out who they are.  Trying desperately to tell a story worth living, worth loving, worth knowing.  Sure there are loads of examples of people getting it TOTALLY WRONG, so many this guy even started a collection of them.  But even behind the WORST of them I reckon there's a person there just doing the fucking best they can with what they've got.  And let's face it, we didn't all start with parents that loved us unconditionally and taught us to respect ourselves and everyone around us.
HAHAHAHAHAHA
Seriously.  Can you imagine a world populated entirely by people like that?  Because in that world not only would people possibly not take questionable selfies to begin with but everyone else wouldn't hate on anyone who slipped up, or worse, dared to post shots of themselves that flew in the face of societally agreed upon norms.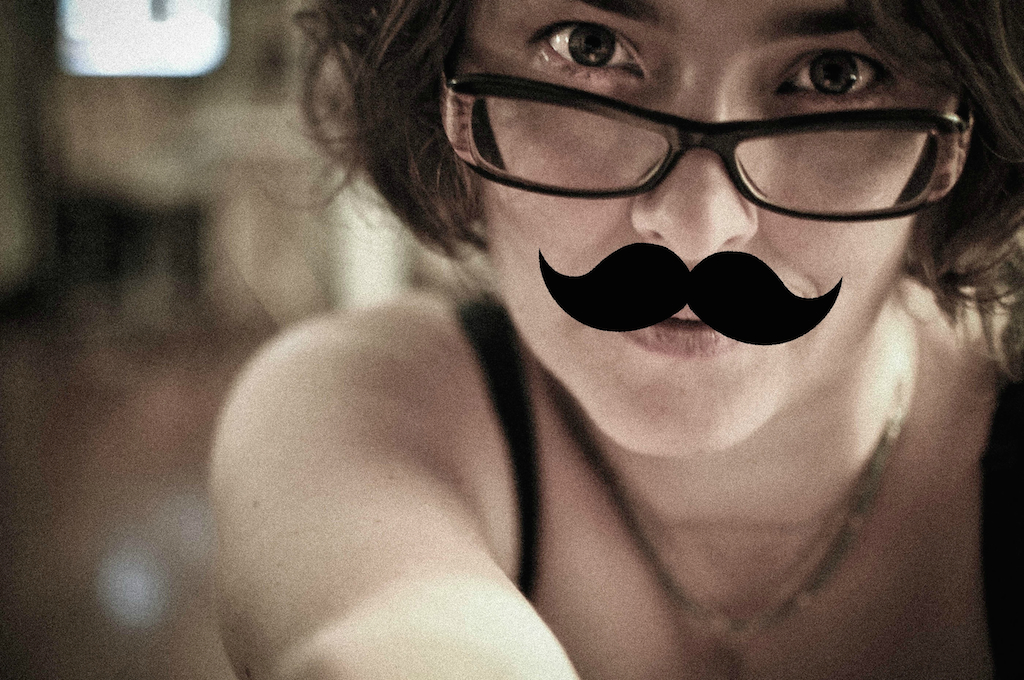 4.  REGRET HAVING MADE DUCKFACE AND STRATEGICALLY PLACE A MUSTACHE OVER IT (lending further credence to your aforementioned IRONIC-but-not-LITERALLY-ironic lack of investment in the whole process)
No one can agree on whether the "selfie" is a narcissistic act or simply a tool for self-discovery, but why can't it be both?  And why do we have such need to fucking label everything anyway?
Susan Sontag said "Photography implies that we know about the world if we accept it as the camera records it.  But this is the opposite of understanding, which starts from not accepting the world as it looks.  All possibility of understanding is rooted in the ability to say no."
Photographs, by their very nature, present a unified field of vision, an image that is both changeable but unchanging.  I think it follows that a seflie is the ultimate label, the ultimate definitive statement.  If we can get the camera to record us as we want to be seen, if we look the way we want to be thought of then we will be understood.  We will be known.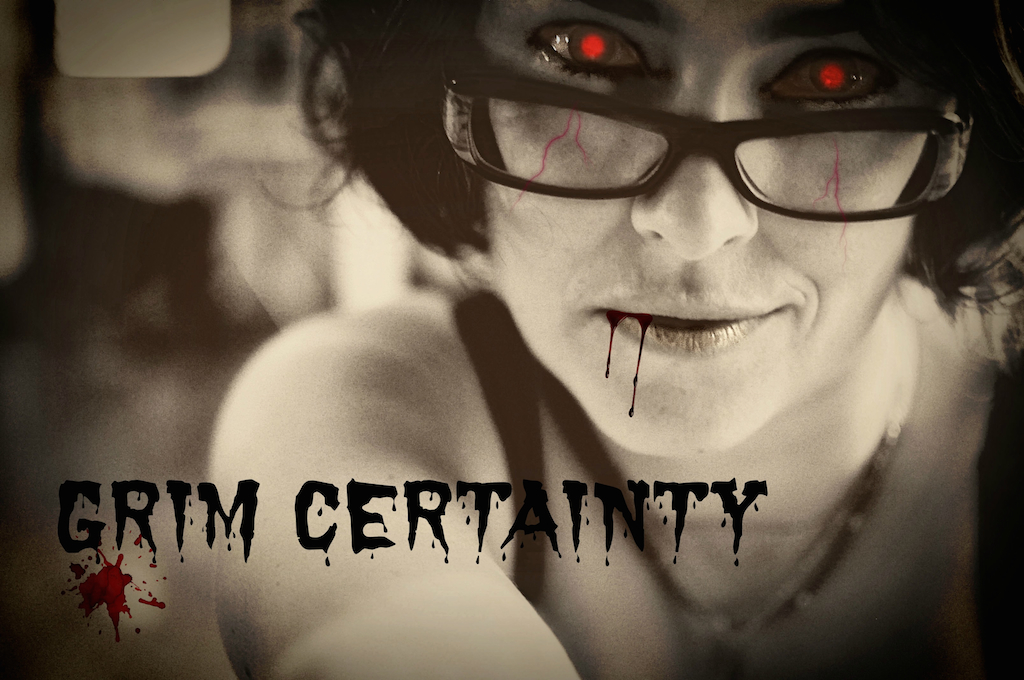 5.  SERIOUSLY START HATING ON YOURSELF FOR INDULGING IN SUCH NARCISSISTIC DRIVEL.  FOLLOW THAT HATE SPIRAL DOWN A RABBIT HOLE OF GROWING DISGUST AND DISDAIN WITH YOURSELF FOR NOT BEING ABLE TO EVEN GET A DAMNED SELFIE RIGHT.  YOU ARE A MONSTER.  IT'S A FACT.  YOU HAVE PHOTOGRAPHIC EVIDENCE.
In the absence of a loving mama to hold you tight, cast out into the cold dark alienation of modern day adulthood maybe the selfie is the closest to unconditional love we can get.
I don't actually believe that.  But the allure registers with me.  I can appreciate it.  When I was younger I was both fascinated with and repulsed by images of myself.  I couldn't reconcile the sleek, pretty white girl who looked so "put together" with all the crazy chaos inside myself.  I didn't feel unified.  I felt broken.  But the camera didn't record that.  So I found pictures of myself extremely unsettling.  But I got so much praise for them it was hard to hate them entirely.  And maybe looking unified, contained, and sure of myself was as good as it got.
Fortunately now I know that's not true.  I'm not broken inside anymore.  I'm even starting to come around to the notion that I never really was, I just felt that way.  It's easier to look at myself with love now, to see past the seeing of me, the what I look like of me and into the great roaring abyss that lies beyond.  Now that my visage is showing some wear and tear it's the inside that's shiny and new.  Unified.  It's like Dorian Gray in reverse.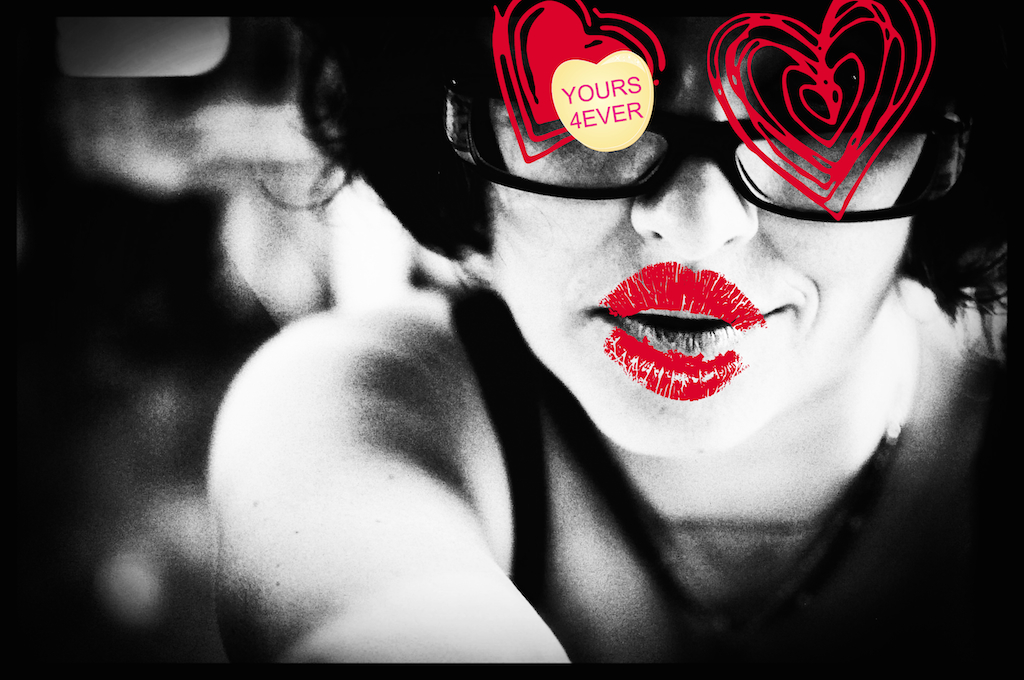 6.  FUCK IT.  DARKEN EVERYTHING RECOGNIZABLE ABOUT YOURSELF AND COVER THE WHOLE DAMNED THING WITH STICKERS.  SEE ONLY WHAT YOU WANT TO SEE IGNORE EVERYTHING ELSE
So I can't post a selfie seriously.  This picture of me is not me, it's not even close to being me.  I think Susan Sontag was right, I think we do mistake photographs for reality and I think it's changed the way we see the world and with the advent of the selfie it's changed the way we see ourselves and relate to one another, connecting surface to self at levels previously unimaginable.  Honestly, I think it might be a bit dangerous.
But it may also be the perfect way to encapsulate your vision of yourself and project it out into the world, and there is real value in that, and a certain power too.  That isn't something that time or wrinkles will change, it's an ongoing process of self-discovery and connection with the outside world.  Besides, what if the selfie is a part of our collective journey towards recognizing the fundamental spiritual truth of impermanence?  We can't know the futility of trying to hold onto youth and beauty and any given moment until it's utterly impossible to do so anymore.
We have to remember that most of the people taking selfies are in their teens and twenties.  What's going to happen to them when they age?  Will they still delight in taking them?  Or will they be shamed by their own children who disavow the phenomena altogether?  (GOD MOM.  LIKE, NO ONE IS EVEN USING SNAPCHAT ANYMORE.  GEEZ.)
I don't know.  But I must confess I'm extremely curious to find out.  So here's to the next forty years of self-reflection and/or narcissism.  Let's hope that on the other side of all that shamelessness we don't find giant pools of shame and self-undoing and if we do let's hope we wade through it to the other side and find a view worthy of yes, yet another SELFIE.  Older and wiser and more selfieish than ever before…
http://starsofwonder.com/wp-content/uploads/2013/12/duckface-moustache-krop.jpg
575
1022
Wonder Bright
http://starsofwonder.com/wp-content/uploads/2014/09/starsOfWonder-143x32@2x.png
Wonder Bright
2013-12-18 22:02:53
2017-10-24 16:58:44
How To Be Your Selfie