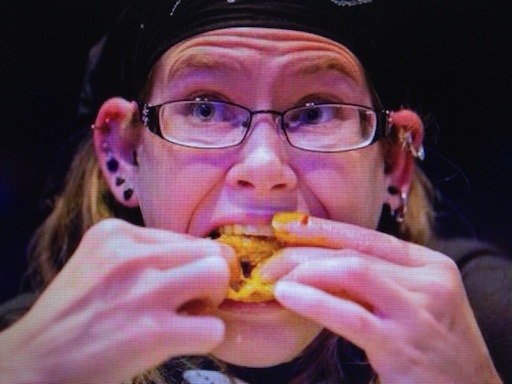 I've been looking for Molly Schuyler's birth date for full on 30 minutes now.  You wouldn't believe the things I've seen her devour since I started.  It's crazy incredible.  She ate the steak above in 3 point something minutes.  Oh man the idea of it just makes me feel queasy.  Seriously, WHY.  This just can't be a good idea.  And yet it is oddly exciting (maybe this Paleo diet I'm on is beginning to wear thin…)
I can't find her birth date, but it looks like she turned 34 sometime between September 17 of last year and January 3 of this one so she was likely born between 9/79 and 1/80.  The interesting thing is that Jupiter and Saturn were both transiting through Virgo from October on, with Jupiter going retrograde at the end of December.  This is notable because Saturn is known for causing skinniness (everyone is impressed with Schuyler's atypical competitive eater's physique – she's SKINNY) whilst Jupiter is known for his appetite and largesse.  Virgo is often associated with diet and health buffs.
I'm fiercely curious as to what possible combination with her ascendent or personal planets Saturn and Jupiter could be making.  She's expressing the qualities of both planets so extremely, it's really funny.  Even in her attitude which is both ebullient and enthusiastic as she begins and finishes (Jupiter) and cool as a cucumber and all serious face when she's working (Saturn).
Ah what a wonderful world.
Source: Dlisted Hot Slut of the Day, natch…
http://starsofwonder.com/wp-content/uploads/2014/01/photo2.jpg
384
512
Wonder Bright
http://starsofwonder.com/wp-content/uploads/2014/09/starsOfWonder-143x32@2x1.png
Wonder Bright
2014-01-09 11:35:13
2016-05-18 23:54:34
How many planets can you fit in your mouth at once?