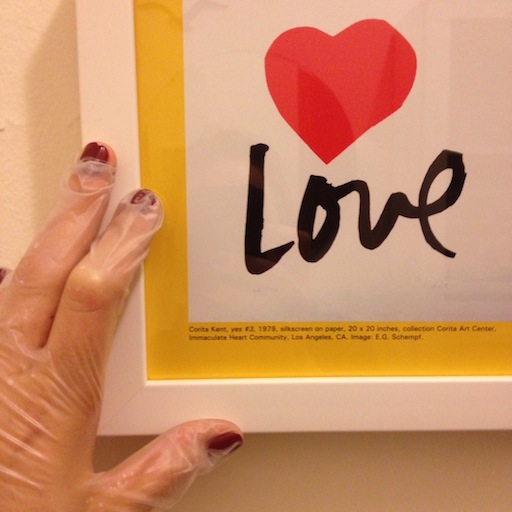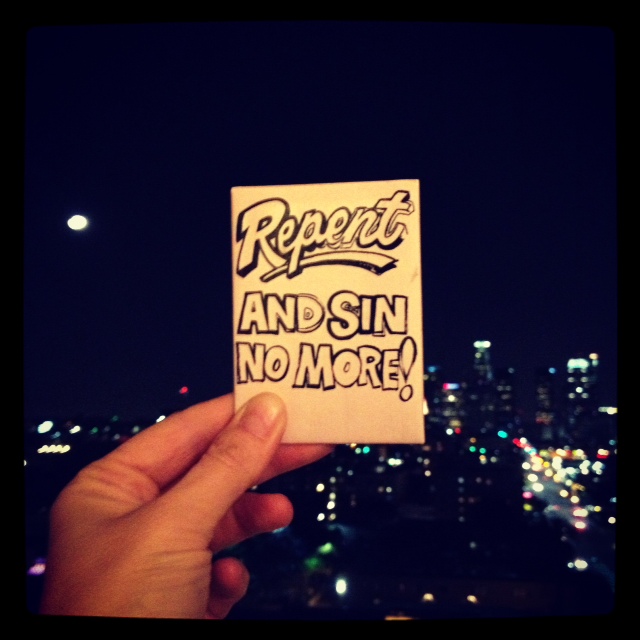 My birthday is New Years Day, which, if you caught my post last year, virtually always finds me stoned organizing my closets.  Last year I was feeling all mopey mopey Eeyore about it (Eeyore is the Poster Child for Capricorns, no doubt) and vowed to spend this year's birthday in Palm Springs poolside.
What's that quote about making God laugh by telling him your plans?  Yeah, guess what I did this year?  Got stoned and organized my closets.  In fairness, this year I had bed bugs, so NOTHING, not even a mai tai poolside could soothe the pain of existing under a heap of boxes and plastic bags like a Deep Clean.  And guess what?  It was bloody fantastic.  Seriously one of the best birthdays I've ever spent.  And when the fireworks started going off at midnight I had cleared not just one, but two pathways in my home and totally restructured my entryway.
Which caused me to reflect that it's not the reorganizing my closets on my birthday that's so lamentable, it's the fact that I have some absurd notion I should be doing something else.  I mean, come on, can you think of a better activity for a 12th house Capricorn Sun on her birthday than organizing her closets?!  Answer: NO.
So at the end of the day my resolution for this year is pretty much just the same as it's been for almost every year of my life since I started paying serious attention: stop being so fucking hard on yourself!  Ease up!  For Crying Out Loud!  This isn't Rocket Science!  It's just life.  LIVE.
Of course, making that resolution two weeks ago AGAIN didn't prevent me from being quietly furious with myself that I didn't get this post out on my birthday or any day since like I'd planned to.  And somehow knowing that I've been hit dumb by the 12th house stick and away with the faeries pretty much exclusively since the Sun entered Capricorn at the end of November has maybe helped one iota, but GEEZ LOUISE get it together girl, would it kill you to leave your house?  Apparently yes, yes, it would.  And stop yelling at me, SELF!  We've got to stick together, you know.
So you can see how it's been working out for me so far…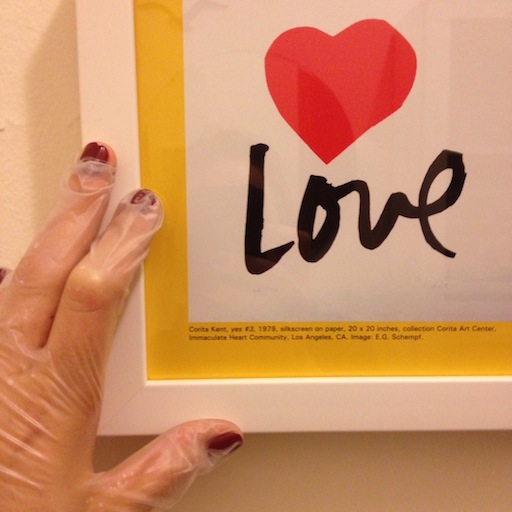 But enough about me and MY ongoing Resolution Battle.  This post is here because I want to know about yours!
Here you can see my gloved hand straightening my framed image of Sister Corita Kent's US stamp.  Between the plastic glove with a hole in it, my chipped nail polish, the heart and the LOVE it struck me that this was the perfect image for Venus retrograding through Capricorn.  So in the spirit of dusting off the LOVE and straightening it right up for the New Year, I'm going to repeat what I did last year on my birthday, which is to hold a Giveaway!
Yes, that's right, it's my birthday and I'm giving YOU presents!!  (Look, I know I'm late, but BED BUGS and the 12TH HOUSE and besides, what are you even complaining about? I'm giving away things!!!) Last year I gave away the wretched Birthday Book, but this year I've got something even more exciting to giveaway and even more apropos for ringing in the New Year.  THIS year I'm giving away two eBooks with daily insights for all of 2014 by two of my favorite astrologers!
First up is Astrobarry's 2014: 'Is This The New Normal?'  Barry Perlman is funny, dedicated, and sharp.  He has a way of expressing compassion without ever letting you off the hook.  He's no nonsense, just straight up clear vision and direct advice.  I can't imagine a better companion for the year ahead.
By why stop at one?!  Yup, the second winner will receive Austin Coppock's 2014 Astrological Almanack.  Austin is dry and poetic, the images he pairs with his insights have a way of sticking with you long past the moment you read them.  If it's a different angle you're looking for Austin's got it.  He's a good guy to have in your corner, so keep him there all year long!
All you have to do is put a comment down below about your New Years Resolutions.  And yes!  It's perfectly acceptable if your New Years Resolution is to have no New Years Resolution!  Or maybe it's two weeks into the New Year and you're already jaded and over it.  Or maybe you just want to shout out Happy Birthday to me (you're late, btw) or just send me some love from you in the real world out here to me on my 12th house limb hanging on for dear life.  I don't really mind what you write, but I can't give you a present if you don't ask for it!
Winners will be chosen randomly and announced Friday morning.  I promise to get the eBooks to you as quickly after that as possible so you don't have to spend another minute of this year without some helpful astrological insight!
Have fun!  Good luck!  and may the most random person win!
Oh!  And Happy First Full Moon of the New Year, my Little Black Eyed Peas!
UPDATE: Congratulations, Nicholas & Hazel!  You should be receiving your eBooks by the end of the day!  Happy New Year, and may it bring you both lots of joy and auspicious omens <3
http://starsofwonder.com/wp-content/uploads/2014/01/photo3.jpg
512
512
Wonder Bright
http://starsofwonder.com/wp-content/uploads/2014/09/starsOfWonder-143x32@2x.png
Wonder Bright
2014-01-15 14:56:03
2016-05-17 19:23:44
New Years Giveaway!! Or Full Moon Giveaway! Or something. Look, I'm giving things away, don't look a gift horse in the mouth! And don't call me a horse!