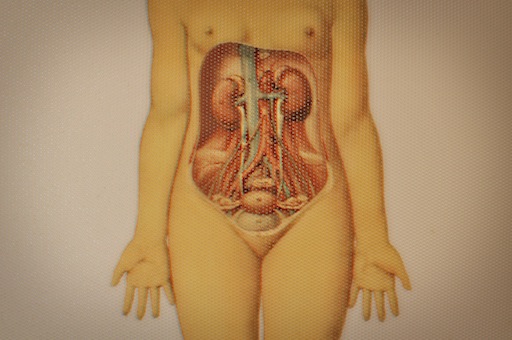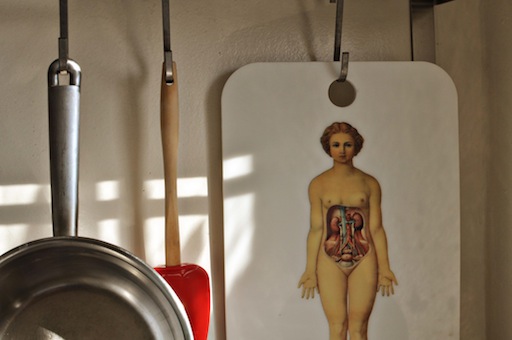 I was speaking with my father this morning and he misheard something I said.  What he heard me say was "The House of Unintended Consequences."  Which I now wish I had said, despite it having nothing whatsoever to do with what we were speaking about, but simply because I've been so far up my 12th house for the past few months this phrase resonates profoundly.
To whom do I appeal for an addition to the definition of the 12th House?
It's described as the House of Sorrows, Secrets, and Transcendence, and it's associated with self-destruction and undoing, but Holy Moly, if those experiences aren't inextricably linked to Unintended Consequences I certainly don't know what is.
My girl Beth gave me the cutting board pictured above for my birthday a few years back.  I've never been able to bring myself to actually cut anything on it and it makes me uncomfortable but it hangs above my stove because I love it anyway.  Visually it expresses something difficult I know to be true about myself but for which I cannot find a cure and for which I'm no longer certain I ought to try.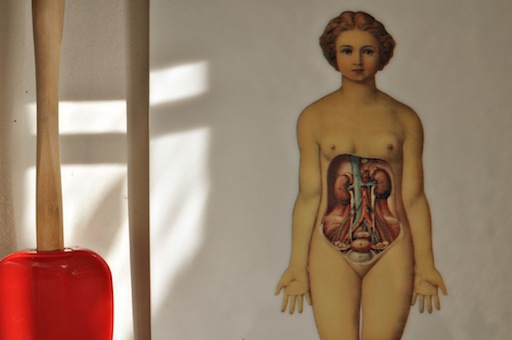 I've always said too much at the wrong time (Mercury in the 12th)  I've had difficulty recognizing boundaries and I've often unwittingly or not trespassed against them (Venus in the 12th).  This blog continues to be an experiment for me in playing with those boundaries, exploring them, running up against them, and risking the danger of cutting myself.  It's compulsive, I'm open-handed about it, I'm exposing myself willingly, but my organs are vulnerable.
I know it, yet I cannot seem to stop it.  I don't know how else to be.  I know it's too much but if I don't do it than I cannot be myself (Sun in the 12th) and if I cannot be myself then what the hell is the point?  I understand secrets and the need for discretion.  Christ, do I understand.  It's just that I don't LIKE it, it pisses me off.  Secrets may sometimes be necessary, but who decides?
A good friend of mine has four planets in the 12th, but they're in Scorpio, she's silent as the grave about things.  Also, she isn't cursed by an Aquarius rising or Uranus squaring her 12th house Sun.  I'm torn between the need to understand hidden things and the need to reveal them.  But truly understanding them must always include respecting the value in keeping them hidden.
I've not mastered that.  I'm far from certain I ever will.  But at least I know this truth now.  (Thank you, Saturn in Scorpio!)
I know I'm not for everybody, I know I say things, do things  other people find awkward or gauche or too personal or simply just "too much," (an anonymous commenter tweaked me about it in response to something I wrote a couple months ago) but in the words of my childhood heroine, Anne of Greene Gables, "if you only knew all the things I wanted to say and don't, you would admire my restraint."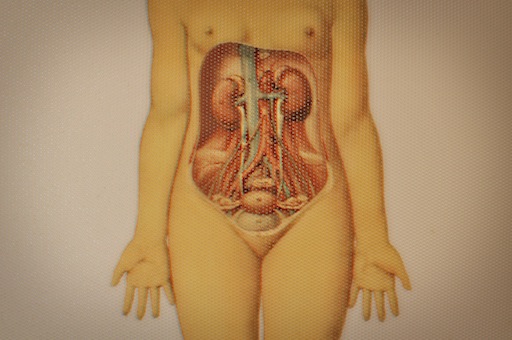 With Pluto transiting my Sun and Venus edging up against them both now it seems as good a time as any to own this contradiction in myself.  It's a contradiction, the kind that cannot truly be reconciled, but perhaps I can find peace with it.  Perhaps I can just accept that there may be blood, there may be repercussions, there may be Unintended Consequences.
It is, after all, my essential nature.  All I can truly do is ride this knife's point to the edge.  Hope for the best, forgive the worst, and do my absolute best not to betray anyone else.  If organs must be offered, let let them be mine.
http://starsofwonder.com/wp-content/uploads/2014/01/organs.jpg
340
512
Wonder Bright
http://starsofwonder.com/wp-content/uploads/2014/09/starsOfWonder-143x32@2x.png
Wonder Bright
2014-01-23 14:03:20
2017-10-28 00:18:06
The House of Unintended Consequences