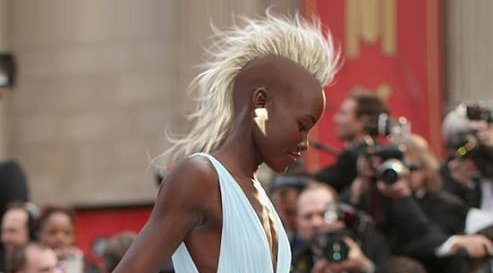 When I was a little girl I used to fantasize about winning an Oscar and all the people I would thank. I don't act anymore – at least not seriously – and I don't have that fantasy anymore, but I still like watching the Oscars, it's just so much fun watching people so full of gratitude fulfill a lifelong dream and want to share it with people.
Not everyone gives a good speech, but every year it seems like there's at least one person who captures the spirit perfectly. This year it was Lupita Nyong'o, who celebrated her birthday yesterday, giving her a nice fat Jupiter trine to her Pisces Sun currently. Bless her.  Bless her for making us all cry by remembering not only her family and friends but the story that got her here and the cost of it.
I know a lot of people who poo poo the Oscars and think it's a bunch of hooey, and sometimes – ok, a lot of times – they're right and we do have to endure a lot of eye-rolling before we get someone great and deserving, but I don't care.  I'm glad there's a moment every year that the country shuts down and gathers around the tv set to celebrate stories and the people that tell them.  Stories are important, they help us understand ourselves, help us understand one another.  We need them.
And this story, 12 Years A Slave, well, really.  This story needs to be told.  We need to tell this story, we need to listen to it, we need to take it on and own it.  This is our story, and even if it hurts, we need to hear it.  So I'm glad for the Oscars and all the dresses and the hoo ha.  If it brings more people to this film than I'm just glad.  And Hollywood better be writing some more meaty rolls for my girl, Lupita, too!  I want her to have a lot more to be grateful for in the coming years.
We could use some more Gratitude Truth in the world.  #Piscestrueheart
http://starsofwonder.com/wp-content/uploads/2014/03/Lupita-is-Storm.jpg
273
493
Wonder Bright
http://starsofwonder.com/wp-content/uploads/2014/09/starsOfWonder-143x32@2x1.png
Wonder Bright
2014-03-02 23:58:15
2016-05-13 15:37:34
Lupita for president - of MY HEART