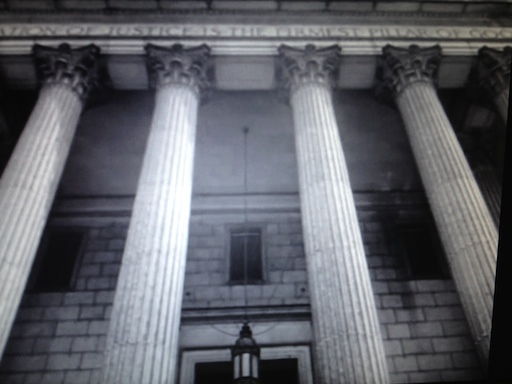 I've got jury duty this week.  Today was the first day of jury selection.  The judge in the courtroom I've been selected for read this great description of "reasonable doubt."  It's a criminal case so a clear working definition of reasonable doubt is crucial, since 12 people are going to have to agree on a verdict for the trial to be a success.  I wish I'd had a recorder, the exact phrasing of the sentence he read was so illuminating to me.
Being human I am, of course, filled with reasonable doubts about all sorts of things.  But according to the judge what the courts are looking for is actually something less to do with the absence of any doubt whatsoever and more to do with being filled with "abiding conviction" that the prosecutor has made her case.  We don't have to decide on the moral character of the defendant, just on whether we are convinced the defendant actually committed the actions the prosecutor alleges.  He said we needed to imagine ourselves twenty years in the future feeling confident we'd done the right thing.  It's as if he wants us to be less concerned with the morals of the defendant and more concerned with our own.
There was something so… so… so Mars in Libra about the proceedings.  Of course, I have Libra in the 9th house, which is a "good" house and has to do with law anyway, so perhaps I'm a bit vulnerable to a positive interpretation, but I found the whole afternoon very enlightening.
Everyone is so filled with negative interpretations of Mars retrograding in Libra, and no, I'm not too happy about hitting the column in my parking garage with my car the other night (Mars in my 2nd house of money and possessions ruling my 3rd house of short distance journeys is seriously going to be coming out of my pocketbook on that one) but what if Mars retrograding in Libra is also an opportunity to right some wrongs?  What if righteous Mars does get slowed down by Venusian need for agreement?  Would that really be so bad?
After all, as Rob Hand points out, the biggest problems with Mars always arise when we treat it like a personal planet, as if our fight for things was personal.  Me driving too fast in my parking garage and grazing a column is symptomatic of how selfishly I've been driving, not paying enough attention to the world around me.  In that instance I was not using my Mars wisely.  Thank heavens I hit concrete, not flesh and blood.  We need to use our Mars for others, to fight for something outside ourselves that we believe in, not just blindly pursuing our own selfish ends.
I've always had a tiny niggling anxiety that I would land on a jury where I was the only one in the room who believed something the other jurors didn't.  I've argued lonely battles before, you see.  And I would hate to do so when someone's life hung in the balance.  But this judge made me feel differently.  He made me feel confident that there was genuine worth to fighting for your opinion, to sticking to it, but to being open to the opinions of others.  He made it interesting.  And he made it meaningful.
I still can't but hope I don't get selected for the jury and I get to go home once selection is over, but I no longer dread it if I don't.  In fact, it occurs to me that this is as good a way to kick off this retrograde as any and possibly better than most.
Wish me luck!  …and conviction!  I have a feeling we're going to need it…
http://starsofwonder.com/wp-content/uploads/2014/03/photo.jpg
384
512
Wonder Bright
http://starsofwonder.com/wp-content/uploads/2014/09/starsOfWonder-143x32@2x1.png
Wonder Bright
2014-03-11 20:55:44
2016-05-13 15:34:34
Mars in Libra: beyond a reasonable doubt