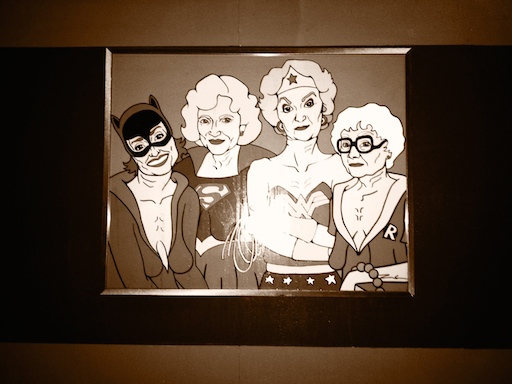 We had a successful day filming and it was even more fun than I thought it would be and aside from trying to make sure (mostly successfully) that all my bits were covered by my tiny negligee, my biggest problem was not cutting up laughing and spoiling every scene we did.
We shot in the back room at the Akbar, which is pretty popular gay bar in Los Angeles, and which features an exceptional piece of artwork depicting the Golden Girls as a set of superheroes.  I took the greatest comfort from it whenever my courage started to flag.  That and a shot of tequila would get any girl through a sex scene, I should think.
Aaaand Mercury was conjunct my natal Mars today.  Great for talking about sex – or choreographing a sex scene – although I probably shouldn't keep calling it that, nobody really had any sex, it was mostly just a comedy shot like a three cam sitcom in a black box theater with lighting that made us look like we were in a renaissance painting.  Lars certainly likes to mix his metaphors.
It was tons of fun and Lars has promised us a musical number next, so I have great hopes.
http://starsofwonder.com/wp-content/uploads/2014/09/starsOfWonder-143x32@2x1.png
0
0
Wonder Bright
http://starsofwonder.com/wp-content/uploads/2014/09/starsOfWonder-143x32@2x1.png
Wonder Bright
2014-03-27 23:03:37
2016-05-13 15:25:21
O V U M: the sex scene