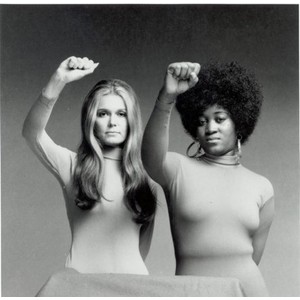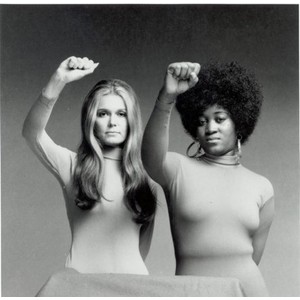 I'm in love with this picture. Aren't you in love with this picture? The woman on the left is Gloria Steinem, on the right is one of her best friends, a woman named Dorothy Pitman Hughes, who was the actress Gabourey Sidibe's aunt. Sidibe, known best for her Oscar nominated role in the film Precious, lived with her aunt as a teenager and she passed this photograph every day on the way to school and on the way home.
And every time she passed it she raised her fist to these two women and took courage from them. From the sound of it, she needed it. She didn't have an easy time of it in school.
She told the story of this picture and some other great stories in a speech she gave celebrating Steinem's 80th birthday at the Ms Foundation Gala the other night. The full transcript is at Vulture, I cannot recommend it highly enough.
I wish there was video of it. It seems strange when she's talking about her body and how it is reviled and for some reason in this day and age where we video everything we're missing video of her talking. It doesn't seem right somehow. I would love to see her give this speech.
I don't want to ruin it for you, head over and read the whole damned thing. It's magnificent.
Saturn is strong with this one. I just looked up her chart, and we don't have a birth time, but being born May 6, 1983 she's got Saturn conjunct Pluto trine Venus. This is someone with some powerful work to do around the proof and power of love. She's doing it for herself, but she's making it clear that if she can do it so can any one of us.
Seriously raising a fist to her tonight.
http://starsofwonder.com/wp-content/uploads/2014/05/Gloria-Steinem-and-Dorothy-Pitman-Hughes.jpg
300
300
Wonder Bright
http://starsofwonder.com/wp-content/uploads/2014/09/starsOfWonder-143x32@2x1.png
Wonder Bright
2014-05-04 23:59:07
2016-05-13 15:18:48
I live my life because I dare