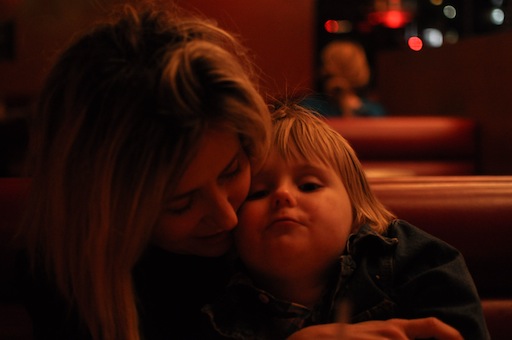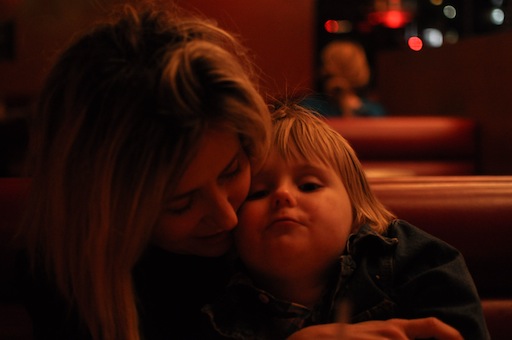 I was going through some old memory cards yesterday and I came across some shots I took of Little Lonely and T last spring.  I think it was the same day we scouted for a place to take her headshots.  Afterwards we went out to eat and I snapped these after dinner.  I'd forgotten about them, actually, and looking through them I can see why.  None of the images is perfect on their own.  They don't work independently of one another, I can't frame any of them.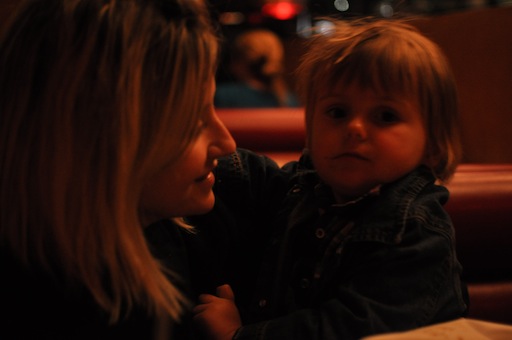 But there's something about all of them together that I just love.  It catches the two of them and the way they are together that settles deep into my heart and connects me to the both of them and then to my own mother too.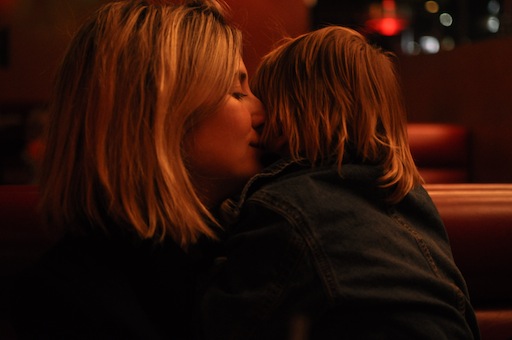 I was five when my mum went back to work.  My dad stayed home with us for the next four years.  My parents were really ahead of their time, you know.  When you're little you don't know your parents are radical, because they're in charge of teaching you what's normal.  Looking back now and I just feel profoundly lucky for all those years with my Dad and how he got me and my brother pocket knives and helped us make spears and build igloos.  But that was later.  The first few months were tough, I missed my mum something fierce.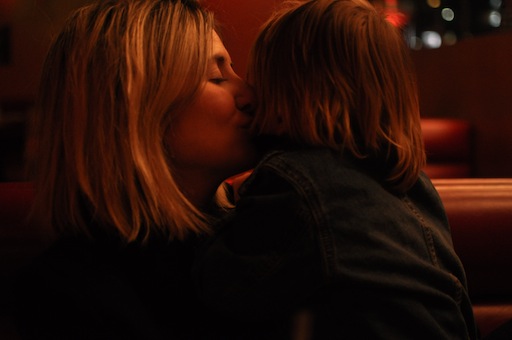 I remember waiting for her to come home one night, my face pressed up against the window, looking out on the trees outside (our nearest neighbor was a quarter mile away).  It was pitch black out there but warm and bright inside.  The lights from the living room reflected on the window and only disappeared when I pressed my forehead all the way to meet it.  The surface of the glass was cold and smooth against my skin.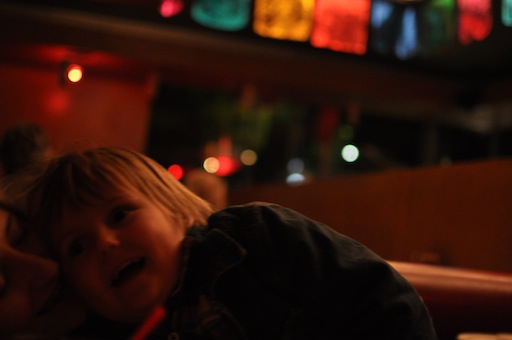 I willed her to come home to me.  My longing for her was so intense it burned a hole through space and time such that I remember it still.  The longing was mixed with a new feeling: cold resignation.  I accepted that she was gone and not coming back until the headlights of the car could be seen coming up the hill through the trees.  So I stood there, waiting.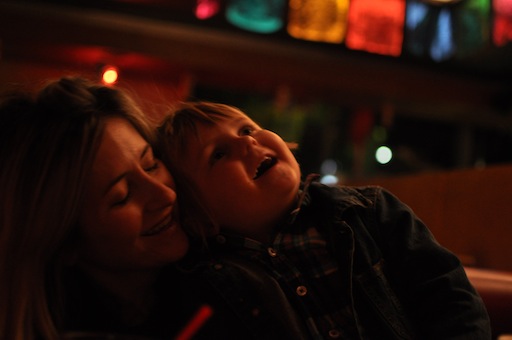 And, of course, the headlights did eventually shoot through the inky black of the night and bring her home to me.  And then she was in the door and the warmth of the house and she held me close and told me she loved me and missed me too and everything was fine and life went on.  I got used to Dad being the one to fix scrapes and wipe tears and I got used to the ways he did it that were different than how mum did it.  But I never forgot that long night when I first realized things had changed and wouldn't be going back again.  And honestly, I think there's a part of me still standing at that window somewhere waiting for it to all go back to normal again.  To live a life where nothing that goes wrong can't be solved by my mother's arms around me and her voice in my ear telling me she believes in me and won't let anything bad ever happen.
And when I'm with LL and T for moments at a time I feel like it has gone back to normal.  And nothing bad can ever happen ever as long as I can just stay here where it's warm and cozy.  And I'll be safe.  We'll all be safe.  Forever and ever and ever.
This is the real reason to have kids, you know.  To be reconnected with that, with the cycle of life and love and connection.  To be cast out of it in childhood is inevitable and returning to it is uncertain.  But it's possible, and I can tell you now that returning to it is just as sweet – and maybe more – than having it in the first place.
http://starsofwonder.com/wp-content/uploads/2013/12/DSC_0615-copy.jpg
340
512
Wonder Bright
http://starsofwonder.com/wp-content/uploads/2014/09/starsOfWonder-143x32@2x.png
Wonder Bright
2013-12-16 11:01:24
2016-05-13 23:48:21
Hold your babies tight