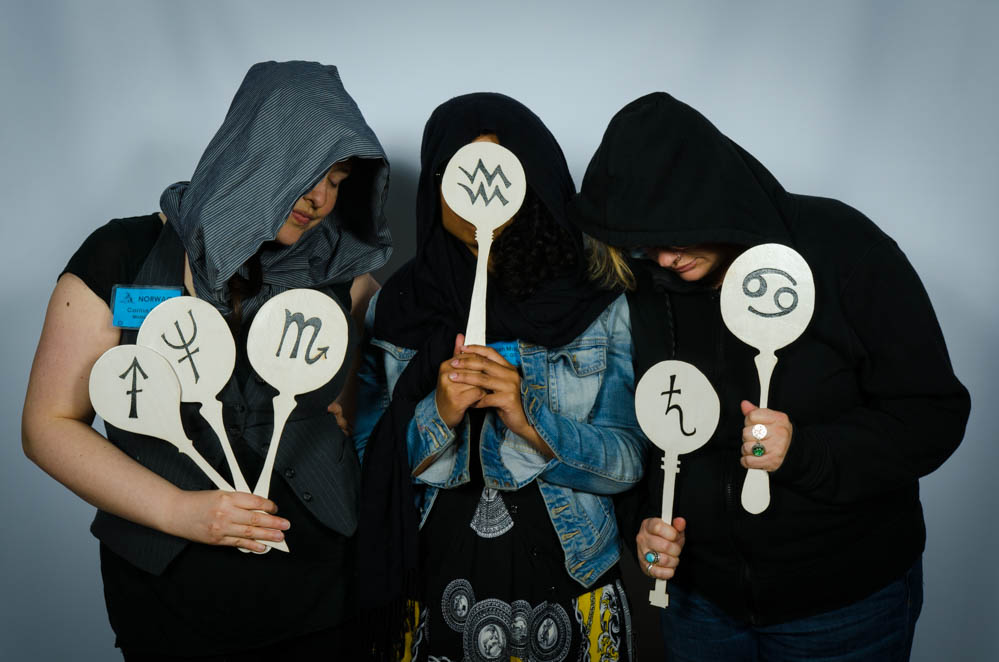 I'm not even sure where to start now that I'm finally at the end of editing all the photographs I got at NORWAC a couple weeks ago. I first started this project at the ISAR conference in the fall of 2014 as a way of documenting my beloved astrological community and I swear I'm more in love with it now than when I started. This time it took much longer to edit the pictures than I expected, there were just so many. I'm grateful to be at the close of another wonderful round, and I'm humbled by this community and the generous way people shared themselves with me, played with me, and made this project their own.
I'm going to highlight some of the pictures and the people that made them with me, and made this weekend possible, striking, and full of possibility. There are links to the rest of the shots at the end of the post.
The shot above features Corina Dross, Mubeenah Mughal, and Rhea Wolf embodying the nature of the 12th house – the last of the twelve houses to rise because it has just risen! Think about the golden hour when the Sun has just crossed the horizon at dawn, things are suddenly visible but most of us are still asleep and unable to appreciate it, hence the 12th house is all about hiding in plain sight.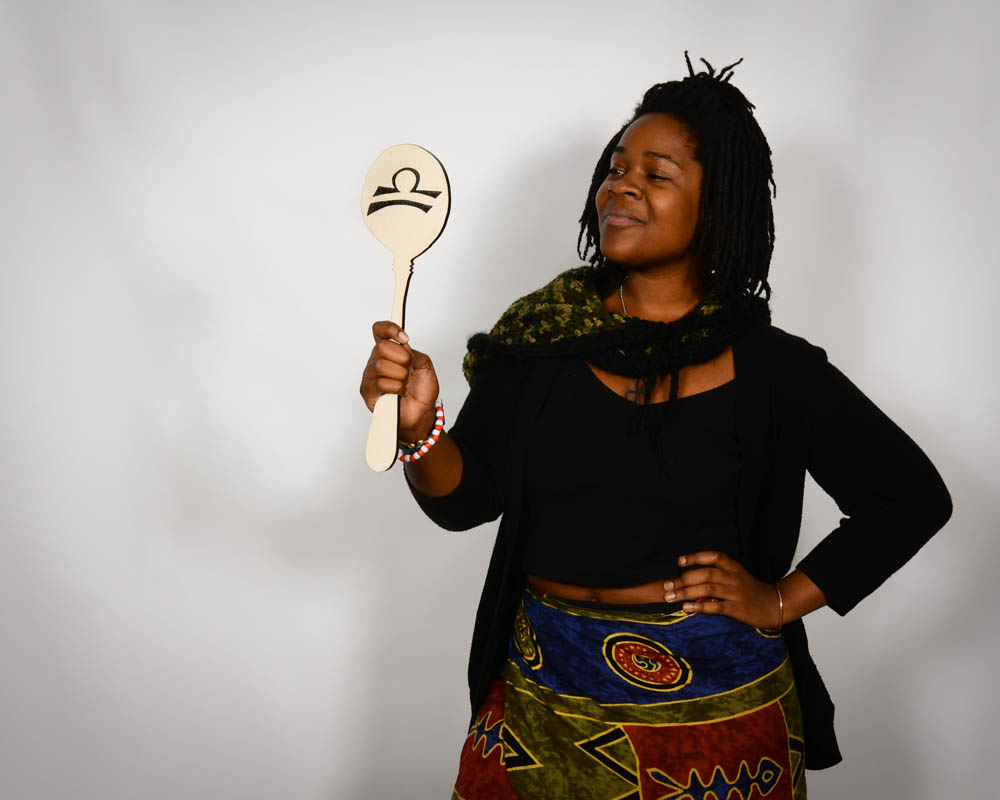 And hiding in plain sight has pretty much been the fate of astrologers of color and queer astrologers for a very long time, but this NORWAC marked a change in that. I saw more astrologers of color and queer astrologers then any astrology conference I've ever been to as well as just a whole crew of younger astrologers, in large thanks to the diversity program started by Laura Nalbandian, who organizes NORWAC every year. Sam Reynolds wrote about the program last year on his site, UnlockAstrology.com, making the case for its necessity. NORWAC has always been known for it's family-round-the-table feeling and to see that table expand and grow to include a new and upcoming crew was a really welcome experience. For those of us who've been waiting and longing for more diversity in the astrological community it was deeply moving to see the dream beginning to be realized. I won't lie, tears were shed.
But not in the Synastic Snaps photobooth! I'm choosing Daizy October Latifah as my poster girl for this outreach program because the way she holds that Libra glyph stick so proud and righteous and PRESENT delights me all the way down to my toes. Libra is usually known for reflecting others, so it's especially meaningful to see Daizy here reflecting herself with such love. Daizy is one part of Wild Seed Astro, formed at NORWAC by several of the attendees as "a transformative collective of melanated magic" to keep the spirit and momentum of the spark they lit there going. Follow them on their youtube channel to catch what they're throwing down. They're just getting started.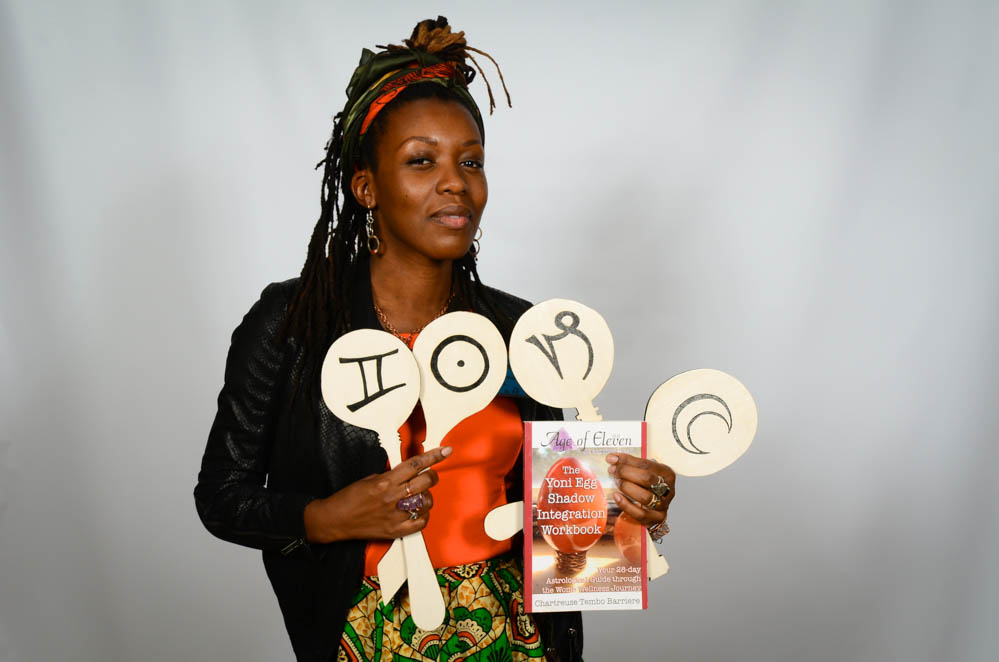 What am I gonna say about Chartreuse Tembo Barriere that this picture doesn't say so much better? Another member of Wild Seed Astro, Chartreuse won my heart with her Leo rising and Capricorn Moon combo. She's not holding the glyph stick for Leo because it's SELF EVIDENT, duh. Also, please take a look at the book she's holding, because this woman is radiating self-healing realness and she's written a book to help all women do the same by creating a blueprint by which we can own all our parts, especially the dis-owned ones. Only a Capricorn Moon could break that subject down in a way that makes the integration possible, get your copy here.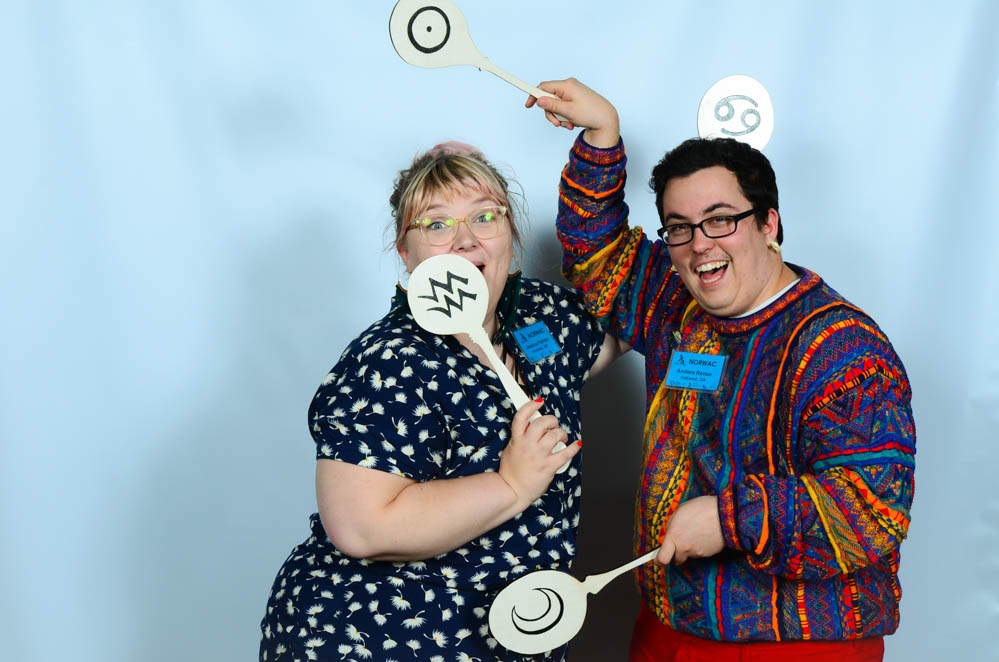 OH. MY. GOD, you guys. THESE TWO. I knew when we were creating these images that they would be some of my favorites, and they did not disappoint. There's a slew of them, each better than the last and I may have lost my heart to them a little. Jessica Painter and Anders Renee, you two made my day! Part of the tribe at Portland School of Astrology, these two could be the poster children for it, the joy and fun they're emitting is exactly the vibe that school is becoming known for, under the expansive vision and guidance of founder Jayson Paulson.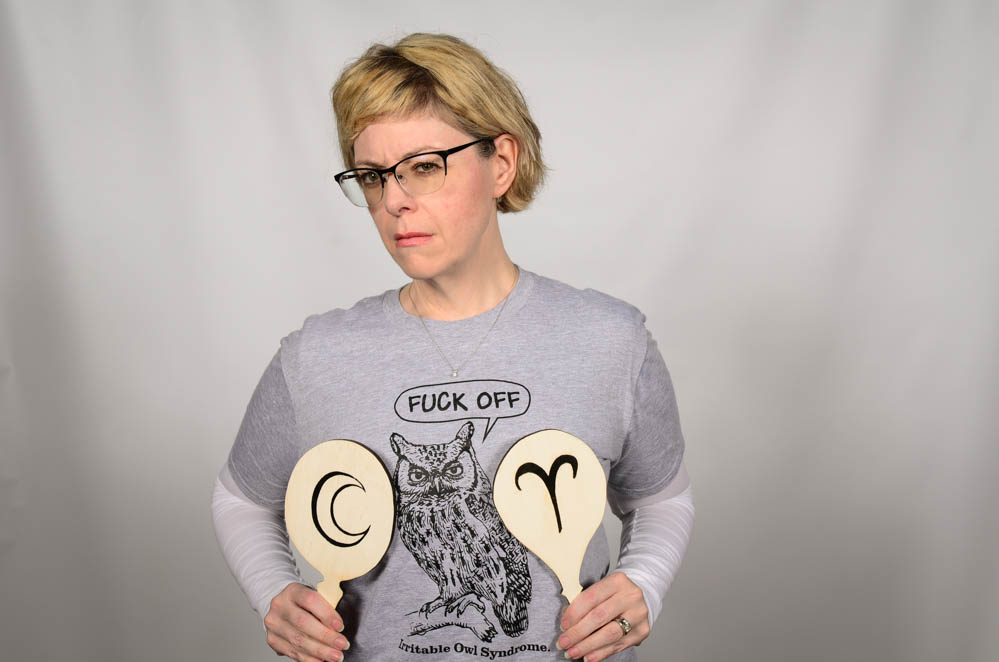 I'm going to close out the images from NORWAC with this shot of Tracy Quinlan, who wins the prize for best tee shirts that weekend, and who never took a picture with me without making me split my gut laughing. Her playfulness and camaraderie represent my experience with my astro tribe in the best way. Also, this shot was one of the last ones I took that weekend and damn if it wasn't exactly the encouragement I most needed to block off all other distractions to finish these images and bring them to you all.
Below you will find links to the images from each of the three days. There is an option to buy images off the site I use to host them, but you can also just drag and drop them to your computer for freeeee! I've set the price point for buying them at the lowest setting so I don't benefit from the cost of the images if you do buy them off the site. However, I happily accept donations, so if you want to contribute to the cost of renting the equipment and the time it takes for me to edit the images feel free to use the donate button at the top right of this page (or scroll to the bottom if you're on your mobile).
Thanks again to everyone who helped make Synastic Snaps what it is, a direct reflection of this ever expanding community we all love, and the tribe we are creating in every shot. Feel free to share, and please tag #synasticsnaps as you go!
Synastic Snaps Saturday / part one
Synastic Snaps Saturday / part two
http://starsofwonder.com/wp-content/uploads/2016/06/Sunday-23.jpg
662
999
Wonder Bright
http://starsofwonder.com/wp-content/uploads/2014/09/starsOfWonder-143x32@2x.png
Wonder Bright
2016-06-23 10:51:52
2016-06-24 11:57:21
NORWAC - Saturday AND Sunday!