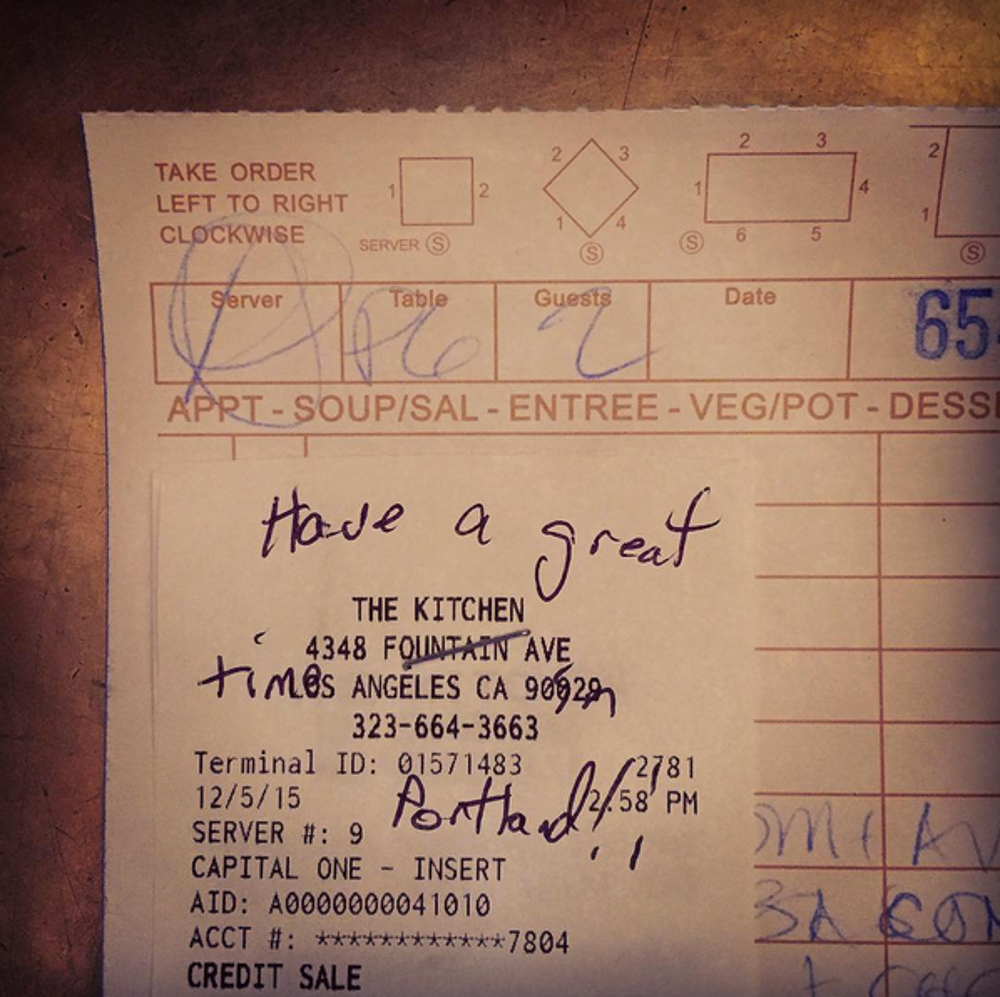 I've been waiting tables for fifteen years at a wonderful restaurant on a magical little corner on the east side of Los Angeles. Today is my last day, and I purposely didn't wear mascara, in preparation for all the goodbyes I have to say. All weekend I've been giving my favorite regulars hugs and discounts and loving looks as they hold my hands and get tearful.
People are usually surprised when I tell them I like waiting tables, and it's probably because most of us have a hard time doing repetitive work that requires you put other people's needs above your own. But I've learned that being humbled is one of the best things that can happen to a person and the love I've experienced on this corner isn't something I can easily put into words. I've been laughing and crying and sharing stories with people here for years that I would never have met otherwise.
I've easily fed over two hundred thousand people in the last fifteen years, many of them hundreds of times apiece. And yes, that's gotta be my ten thousand hours of practice to achieve mastery in the field according to Malcolm Gladwell. And for me that's been about way more than multi-tasking and being able to carry multiple plates at once.

It's an incredibly intimate thing to feed people. To be with them first thing in the morning and last thing at night. To give them caffeine and booze and the fried chicken they've been looking forward to all week. To soothe people who are low on blood sugar and cranky as hell, to say no to unreasonable requests, to manage pleasing people with being efficient. To accept responsibility even when it's not your fault. To live in the every dayness of the day to day, foregoing goals and ambition in pursuit of the excellence of the moment.

This gig has been one of the best things that ever happened to me and I'll never get over it or forget all the people I've worked with, for, served, and fed. Thanks for fifteen amazing years, Kitchen! I may be leaving you, but you will never leave me and for that I can only be grateful.
http://starsofwonder.com/wp-content/uploads/2016/05/Have-a-great-time-in-Portland.jpg
997
1000
Wonder Bright
http://starsofwonder.com/wp-content/uploads/2014/09/starsOfWonder-143x32@2x.png
Wonder Bright
2015-12-14 23:26:06
2016-05-18 23:27:08
End of an Era