"I used to think a broken heart was something you had to put back together, like a favorite dish that fell on the floor and would never be the same again. Now I see that heartbreak often comes from the need to expand. Like a snake shedding a skin, your heart is just too big for the cage you've been keeping it in."
I wrote that June 5th, 2014, six months after a Venus Retrograde that coincided with the last time my heart was broken. A year and four months later, one month after the Venus Retrograde of 2015 I met the love of my life and left LA to move in with him in Portland.
Venus goes retrograde about every eighteen months and during that retrograde period she makes a conjunction with the Sun. A conjunction is when a planet occupies the same degree of the zodiac as another from our viewing position on earth. With the Sun a conjunction has a heightened meaning because when a planet conjoins the Sun it disappears from our view, it becomes eclipsed.
During these planetary eclipses the planet ceases to reflect the light of the Sun to us here on earth and engages in a private dance with the Sun. Traditionally the loss of light is seen as a death, and the emergence of the planet on the other side of the conjunction as a rebirth. It's as if the planet is reseeding itself. In the endless cycle of becoming, it is at this point that the planet and its significations must die in order to be reborn.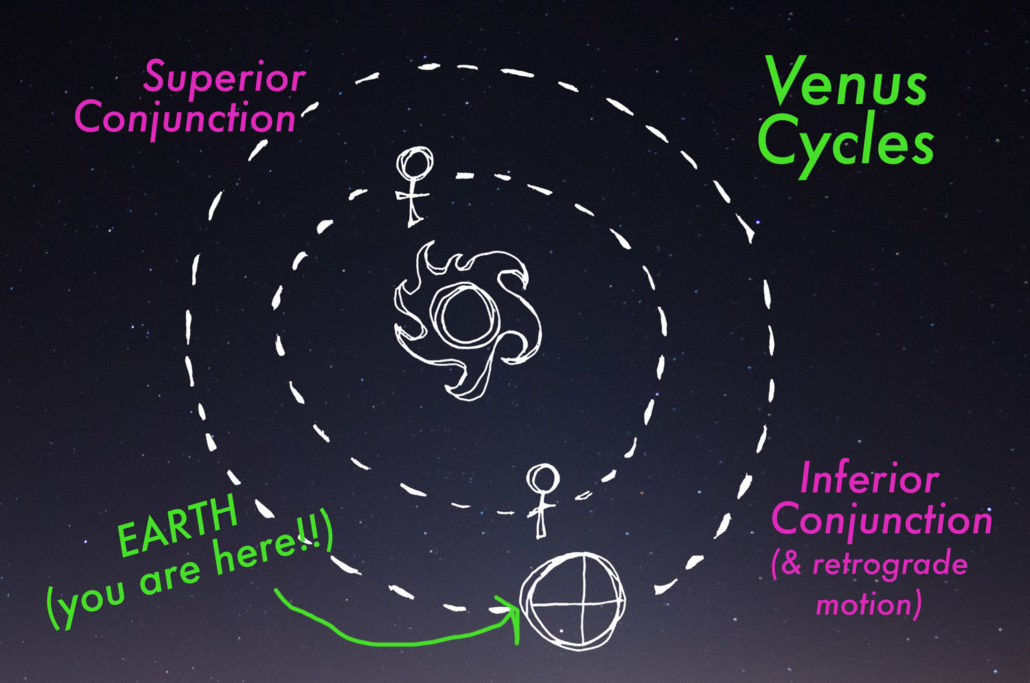 Venus is no exception to this phenomena, but because her orbit, like Mercury's, lies between us and the Sun, she appears to us to make two sets of conjunctions with the Sun in her orbit around it. One conjunction happens when she is on the other side of the Sun, and hence, as far away from us as she can get. The other conjunction occurs during her retrograde cycle, when she is as close to us as she can get. The conjunction at the farthest point away from us is called a superior conjunction because it is considered closer to the heavens and the closer conjunction is called an inferior conjunction, because it lies closer to us, and hence to earthly, or base matters.
Traditionally the superior conjunction is considered, well, superior, as if the effects at this point were granted a sort of celestial, and hence more profound significance. In practice, I have not found this to be the case. In fact, there is something to be said for the deep earthy significance of reconnecting Venusian powers to our immediate, pressing, and selfish concerns. Venus is a planet concerned with the arts of love, both ethereal (superior conjunction) and sensual (inferior). It's impossible not to read a deep mistrust of lust and the senses in traditional texts, which connect Venus to women and femininity.
Classically the conjunction of a planet to the Sun is considered the beginning of its cycle, which stands to reason, because of the death/rebirth cycle represented by an eclipse. However, in the cases of Venus and Mercury, which each enjoy two conjunctions with the Sun in their orbit, there is a question about which conjunction starts the cycle. Traditionally the superior conjunction is considered the beginning of the cycle, but more recently astrologers, notably Adam Gainsburg, have questioned this, placing the beginning of the cycle with the inferior conjunction during the Venus retrograde.
Adam's model rescues the morning star Venus (when Venus emerges from the inferior conjunction she will rise as a morning star before the Sun in the mornings) from traditional disfavor. Traditionally, you see, a morning star Venus is considered to operate against her more favorable traits. She is considered a warrior Goddess in this incarnation, which is less about love and more about a fight. Adam's take is that a morning star Venus is engaged in personal rather than collective concerns, and as an evening star she is engaged in collective concerns. Because those collective concerns are the ones Venus (and women in general) are rewarded for, passivity, receptivity, appreciation, and gentleness, it stands to reason that when Venus stands up and demands to be recognized for her efforts she would be considered unruly, selfish, and base.
In our current time, however, the effort to rise up and protect all female identified peoples and our bodies could be considered a question of the survival of the species. The fact that women are organizing around these principles to fight for healthcare, the right to choose, and a host of other considerations is a necessity, and if that makes us base, well, I'm pretty sure I speak for a whole lot of us when I say, SO FUCKING WHAT.
Honestly, I'm less interested in which conjunction starts the Venus cycle and more that her cycle actually provides the choice of either. Talk about messing with the binary. What if her cycle (and Mercury's too, but that darling bi/trans/othering planet really deserves their own post) actually represents less a chronological continuum with a beginning and ending point but rather an inward and outward breath? What if it has less to do with getting somewhere and more about being with wherever you/we are actually at?
I am, of course, writing this on the very day Venus approaches the inferior conjunction with the Sun in Aries, which is the sign in which she is in detriment, because Aries is ruled by Mars, and God forbid Venus ever gets, you know, actually angry. God forbid she ever rises up and protects herself, sets a boundary, or says NO. It's sort of double whammy, this particular retrograde cycle and against the backdrop of all that is happening in the world the stakes feel especially high.
As I write this my chest feels very tight, as if these are words I've been longing to share for a long time. I keep sighing and brushing tears from my eyes, trying to clear them so I can see the screen in front of me. There will be people who disagree with my take entirely, and that is fine. I'm not actually talking to you. I'm talking to the women who contributed to the epic emotional labor thread on metafilter the last time Venus went retrograde in 2015. I'm talking to everyone who ever had their heart broken and saved themselves and lived to fall in love again. I'm talking to everyone who's ever been abused, abandoned, or diminished and had to cut people out of her life in order to survive and overcome her trauma. I'm talking to her, but that means you, because we all have a Her inside us, we all have a Venus, and She needs protecting.
She is worth fighting for.
We need to love her and honor her and to do that we need to start with ourselves. There is no better time to do that then at the inferior conjunction of the Venus retrograde cycle. There is no better time to do that than right now, and to keep the practice going throughout her Morning Star phase, especially as she begins her trek back through Aries from April 29th through June 5th.
On a global scale we are watching the effects of what happens when we do not attend to the needs of the people and the people are feeling it. Those in power are feeling it too. Collectively we are all fed up and ready to riot. Nations are preparing for war.
This is a frightening time, and the outcome is uncertain, but there is no backing away from it. As of March 31st Venus will be rising before the Sun in the pre-dawn sky, glowing faintly there at first and then with increasing brightness as she gains her strength for the fight. As of April 30th she will re-enter Aries, the sign of Mars, the God of war. Whatever your part is to play it is time to play it and play it well.
What have you been swallowing against your will in your own life? Where have you been giving up too much of yourself and not getting enough in return? Stand beside yourself and be an ally now.
Goddess Speed, my little dumplings. Let's make it so.
http://starsofwonder.com/wp-content/uploads/2017/03/Venus-setting-webready.jpg
1000
1510
Wonder Bright
http://starsofwonder.com/wp-content/uploads/2014/09/starsOfWonder-143x32@2x.png
Wonder Bright
2017-03-24 17:46:37
2017-10-24 20:43:46
Venus Retrograde: Breaking Hearts & Shedding Skins